Photos
Comic-Con Breaks Bad With a Packed Panel and Extended Season 5 Trailer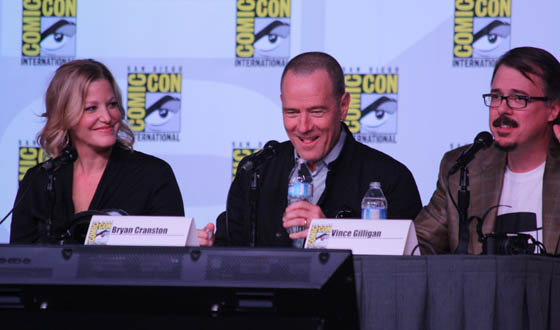 Update: Click here to see ten new photos from the Breaking Bad cast's autograph session on Sat., Jul. 14.
Breaking Bad Season 5 premieres tomorrow, Sun., Jul. 15 at 9/8c — but in San Diego the big show was last night in Ballroom 20 at Comic-Con, where the Breaking Bad cast and crew came to greet a packed house. The festivities kicked off with the premiere of an all-new extended Season 5 trailer, which drew rapturous applause from the audience.
Then it was time to welcome the stars on stage, including show creator Vince Gilligan and cast members Anna Gunn, RJ Mitte and Betsy Brandt. Then, Dean Norris came out in a full lady's gladiator costume, to laughter and cheers from the audience. That was followed by Jonathan Banks, who (as befitting of his character Mike) was dressed like a regular guy.
And then… Bryan Cranston and Aaron Paul entered in full Tyvek regalia and gas masks, carrying a baby doll that was similarly clad. The audience gave a standing ovation.
The discussion kicked off with Cranston being asked if the fifth season can possibly have a happy ending. "Have you been watching the show?" Cranston mocked. "I guess if he dies."
Talk then turned to Walter's cancer, and whether that would be coming back at any point. "We have definitely not forgotten what got us here story-wise," said Gilligan. "He is currently in a state of remission. Will that continue to be the case? Who's to say." Cranston quipped back, "You're to say."
Moving on to talk about the evolution of Jesse Pinkman, Paul said, "He was this kid just finding his way, and then Walter White screwed it up." Asked whether Jesse will learn about the secrets Walter has been keeping from him, Paul said, "If he finds out, he's going to go out guns blazing, for sure."
The chat then turned over to Gunn, and Skyler White's own evolution as a character. "When she stumbles upon the fact that Walt is a drug dealer, that's as bad as she thinks its going to get," said Gunn. After the cliffhangers from last season though, "She's going to protect her family, and hold her family together."
The same question went to Banks:. "I think Mike got lost a long, long time again, so I think he moves forward with great trepidation," he said.
The discussion shifted to talking about how things change as the team is writing, and the moderator — TV Guide's Mike Schneider — brought up that the original plan was to kill off Jesse Pinkman early on. Gilligan joked, "Well, that could happen at any minute! No? I shouldn't do that? The original plan was to let him help Mr. White get entree into the business, and then get killed off."
"There's still hope," quipped Cranston.
When talk shifted to Season 5, Gilligan was mostly mum. However, he did let slip that a key figure will be a former associate of Gus Fring's named Lydia, and that "this season is about winning, and what it is to stay on top."
Cranston noted that the Season Premiere is more intellectual than violent… But also very funny. "The existential conflict he was engaged in is lifted off him, so there's this exhilaration effect that's shared with your band of merry men," added Gilligan.
Cranston and Gilligan also had a few choice words about the premiere's opening scene: "It's not that subtle," said Gilligan. "It'll
be right there in plain sight in the first few moments." Added Cranston,
"This teaser Sunday night is the most revealing teaser Breaking Bad has ever shown… But you won't know what to do with it."
After that, Norris addressed Hank's hunt for Heisenberg, explaining, "When you get in your mind that a person is a certain way… It would be ridiculous for him to think that Walt is Heisenberg. But he's not done looking."
Then it was time for questions from the audience. One attendee asked Cranston whether he can Cranston sympathize with his character, "I don't think of sympathizing with him, because I am him," said Cranston. "He made a decision a long time ago, and now he's living with it. He's on this journey, he's just trying to hold on. As for redeeming qualities? He makes damn good meth."
Added Gilligan, "With each episode, he becomes less sympathizeable. He does something this season that I, as the first viewer, say, you know what? I've lost all sympathy."
For the last question, a fan asked what Gilligan would be doing next, and if he'd try to top Breaking Bad. Gilligan answered, "I hope this is not the highlight of my career, I don't know what it will be…" He then quoted a line from the second episode of the upcoming season, saying, "When you win the lottery, the first thing you don't do is buy another lottery ticket. This show has been the greatest emotional highlight of my career. This is like a second family to me, a family I get to choose."
Want to see more from the Breaking Bad panel? Check out the photo gallery of the panel and Saturday autograph session.

Read More