Uncategorized
Bryan Cranston Answers Fan Questions (Part I)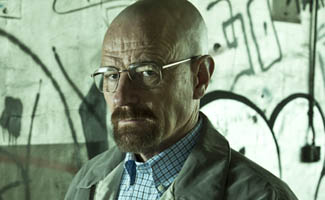 In the first part of Bryan Cranston's chat with fans, the three-time Emmy winner describes what he and Walt learned from Gustavo Fring and imagines Walter White's last meal.
Q: Walt appears to have chanelled his former mentor/adversary Gustavo Fring. What have you been doing as an actor to prepare for that level of controlled, calm, intense presence that Giancarlo Esposito mastered with his yoga mindset? — Dtapped
A: Deep breathing is always a good exercise, but I'm a runner instead of a yoga exercisor. But really, it's mutual. Bryan respects Giancarlo as a man and as an actor and I learned from him in both those regards. Walt respected Gus in an odd way, too, how he conducted himself, how he was clear in thought, and the absolute determination and drive he had. And knowing that now he is the kingpin, I think he learned from Gus too how to present himself. You may notice Walter is standing straighter. At the beginning of the show I wanted him to have a posture that was slumped and shlubby, the weight of the world was on his shoulders. Now that weight is off, and he's wearing the crown, and you need to have good posture, with your shoulders back, you have to stand up straight when you're wearing the crown — otherwise it will fall off.
Q: As the show progresses, we start seeing more Heisenberg and less Walter White. If we think of these two as individuals, which one do you enjoy playing the most? — Crabjock
A: I can't differentiate between the two, he's too close to me. He is one in the same — you can't cut one out, because the other would die. One's the muscle, one's the brain — and it's fun to play this guy who's become this badass.
Q: How do you think Walter White would want to be remembered? — Ken Wynns
A: Respectfully. I think that's very important for him. And he was getting it when he was praised anonymously in manufacturing the finest methamphetamine in the world. And he relished that praise and the infamy that went along with it. That's his goal. He's very much a prideful man.
Q: What would you like to see Walt's "Last Meal" consist of? — diksee
A: His last meal? That's presuming that he's going to die. He might, but I am saying that, in all sincere honesty, I don't know. I've never asked Vince [Gilligan] what's going to happen or how it's going to happen. I'm in exactly the same place as the audience will be after Season 5. But what would I want? Scrambled eggs, bacon, maybe some Funyons on the side. Everything that we've eaten on the show. Some scotch, some bourbon, probably some of that Pollos Hermanos chicken, it's good stuff.
VIDEO: Clip from Episode 501, "Live Free or Die"
Q: While it is sad to see Breaking Bad leave, how do you feel about the ending of the show? — sendmorecops
A: Actually right now with this second to last season I feel fine, I feel good. We finished it. It's a good season and fans are going to get into it. There's a lot of crazy stuff that goes on. And then I'm looking forward to the last season that will culminate in a climax that I can't wait to find out about. At that time, I may have a different answer.
Q: Do you plan to maintain a residence in Albuquerque after the show wraps? What's your favorite Albuquerque restaurant? — Robspiegel
A: I do. I own a house there and greatly enjoy my time there. I may be able to come back and visit and also work some more in Albuquerque. I've developed a lot of friendships and places I like to go, so it's been great for me. In terms of restaurant, I think for dinner I enjoy going out to El Pinto because of the food and the guys who own the restaurant and the general manager. I enjoy the atmosphere, the food and the drinks and it's pretty festive. And as a great standby, you can't beat Flying Star.
Click here to read Part II of Bryan Cranston's fan chat, in which the actor reminisces about his favorite moments making the show and shares which other Breaking Bad character he'd want to play.
Read More