Breaking Bad Receives Three TCA Nominations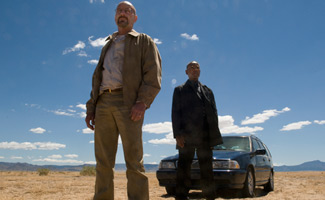 Today the Television Critics Association announced their nominees for the 2012 TCA Awards, and Breaking Bad was honored with a total of three nominations in the Outstanding Achievement in Drama, Program of the Year and Outstanding Individual Achievement in Drama categories.
The nominations are part of six total that AMC received this year, with Mad Men earning nods in the exact same categories.
In the Drama and Program of the Year categories, Breaking Bad and Mad Men will face such competition as HBO's Game of Thrones, Showtime's Homeland, FX's Justified, and PBS' Downton Abbey.
Bryan Cranston received a nomination in the Outstanding Individual Achievement category (his third such nomination after winning the award in 2009), for which he'll face Mad Men's Jon Hamm, Homeland's Claire Danes, Game of Thrones's Peter Dinklage and American Horror Story's Jessica Lange.
The awards will be presented during a non-televised ceremony Sat., Jul. 28 during the TCA summer press tour.
Read More