Press
Breaking Bad – The Complete Fourth Season Arrives on DVD and Blu-Ray June 5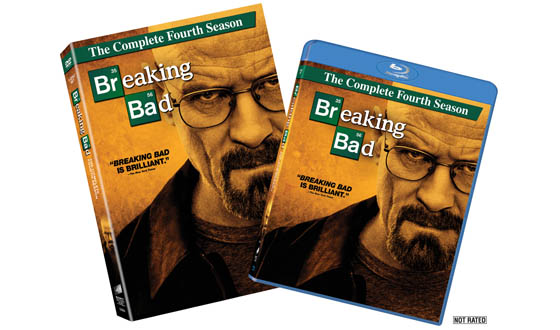 Breaking Bad's most shocking and explosive season so far arrives on Blu-ray and DVD on Tue., Jun. 5, as Sony Pictures Home Entertainment releases Breaking Bad: The Complete Fourth Season. Former chemistry teacher Walter White's dark transformation to full-blown criminal reaches lethal new heights as his battle of wits with drug kingpin Gus Fring (Giancarlo Esposito, TV's Once Upon a Time) continues. Bryan Cranston, winner of three Best Actor Emmys for his role as Walt, stars alongside Aaron Paul, Emmy winner (Best Supporting Actor) for his portrayal of Walt's colleague, Jesse, in this critically acclaimed dramatic series.
Voted by the Writer's Guild of America as 2012's Best Drama Series, Breaking Bad also stars Anna Gunn (TV's Deadwood), Dean Norris (TV's CSI: Crime Scene Investigation), Betsy Brandt (TV's Back When We Were Grownups), and RJ Mitte. Breaking Bad: The Complete Fourth Season contains all 13 episodes, in addition to more than 13 hours of addicting special features including uncensored episodes, deleted scenes, cast and crew commentaries on all 13 episodes, a gag reel, 30 featurettes, and much more.
Click here to pre-order the DVD and Blu-Ray sets on Amazon.
Breaking Bad was created by writer/director/producer Vince Gilligan (TV's The X-Files), who also serves as executive producer with Academy Award® winner Mark Johnson (Rain Man,1988's Best Picture) and Michelle MacLaren (TV's The X-Files). The series is produced by co-executive producers Melissa Bernstein and Sam Catlin (TV's Canterbury's Law); supervising producers George Mastras (TV's The Dresden Files"), Peter Gould (TV's Too Big
To Fail) and Thomas Schnauz (TV's The X-Files); and producers Bryan Cranston, Diane Mercer (TV's Arrested Development"), Moira Walley-Beckett (TV's Pan Am) and Stewart A. Lyons (TV's Everybody Loves Raymond).
Breaking Bad: The Complete Fourth Season episodes include:
Box Cutter
Thirty-Eight Snub
Open House
Bullet Points
Shotgun
Cornered
Problem Dog
Hermanos
Bug
Salud
Crawl Space
End Times
Face Off
Blu-Ray™ & DVD Special Features Include:
• Uncensored Episodes
• Deleted and Extended Scenes
• Cast & Crew Commentaries on All 13 Episodes
• Gag Reel
• 30 Featurettes
• "Better Call Saul" Commercials
• Karaoke Video Featuring Gale Boetticher
• And more!
Exclusive to the Blu-ray:
• 13 Video Podcasts, with a Total Run Time of More than Two Hours
The new season of Breaking Bad premieres Sun., Jul. 15 at 10/9c on AMC.
Read More