Press
Vince Gilligan Chats With New York Magazine; Breaking Bad on TV Guide Dream Ballot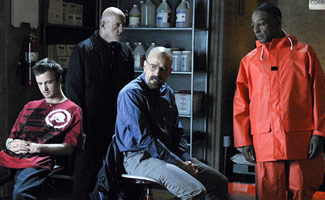 This week, Vince Gilligan takes New York magazine's showrunner survey while Breaking Bad, Bryan Cranston, Giancarlo Esposito and Aaron Paul show up on TV Guide's dream Emmy ballot. Plus, Entertainment Weekly reports on some casting news. Read on for more:
• Vince Gilligan tells New York magazine that "I'd love to see Wendy the Meth Whore on Charlie Rose," when asked which Breaking Bad character would be best suited for reality TV.
• TV Guide places Breaking Bad (Drama Series), Bryan Cranston (Lead Actor) and Giancarlo Esposito and Aaron Paul (Supporting Actor) on its dream Emmy ballots.
• GoldDerby asks whether Giancarlo Esposito could be the first-ever African-American winner in the Best Supporting Actor Emmy race — and wonders why there's been "a noticeable lack of diversity amongst the winners" in this category.
• Entertainment Weekly reports that Laura Fraser has joined Breaking Bad's Season 5 cast as Lydia, one of Gus's former associates.
• Of the Lead Actor Emmy category, The Hollywood Reporter believes Bryan Cranston is "the one to beat. Emmy is all about mindshare, and Cranston's getting it." (No Link.)
• TV Fanatic also thinks Bryan Cranston is the favorite in the Lead Actor Emmy race ("Is there anyone you are scared of more than Walter White?") and forecasts nominations for Aaron Paul and Giancarlo Esposito in the Supporting Actor category.
• GoldDerby mentions Breaking Bad in its prediction that this year's Best Drama Emmy nominees could be comprised entirely of cable TV shows.
• MTV interviews Bryan Cranston, who says of Heisenberg, "He can't do it without the hat. Walt needs Heisenberg."
• Betsy Brandt offers this Season 5 scoop to TV Guide: "Hank is a really good cop, but Walt is a really good criminal… you have to see where it goes. It's pretty amazing."
• Aaron Paul tells E! Online that shooting Breaking Bad's first half of Season 5 has "been emotional all year because this is the first year where we can see the finish line."
• Aaron Paul gives Bullett Magazine a tour of the Breaking Bad soundstage, noting that Saul Goodman's office is one of his favorite sets.
• Of Breaking Bad's trajectory, Anna Gunn tells TheWrap, "I had no idea quite frankly how dark it was going to get." Gunn also speaks with Wetpaint.
• According to Entertainment Weekly, Giancarlo Esposito's inspirations for playing Gus were "Yoga. To be Gandhi-like."
• The Good Wife's showrunners tell New York magazine they'd like a crossover event with Breaking Bad (because "one of these days Walter White is going to need a good lawyer, and we're not afraid of tough cases") and they wish they'd created the character of Walt.
• Bryan Cranston is set to receive a star on the Hollywood Walk of Fame next year. The Hollywood Reporter and TV Guide covered the announcement.
• Wired compares Breaking Bad to an iPad: "Pared down to its essentials, with no unnecessary buttons, extra parts, or confusing menus. Practically every scene advances Walt's descent into amorality." (No Link.)
• BuzzFocus interviews Dave Porter, Breaking Bad's composer.
• Entertainment Weekly and TV Guide report on Breaking Bad's appearance at Comic-Con next month. HitFix says Breaking Bad will screen the Season 5 premiere at Comic-Con.
• Breaking Bad's new Season 5 trailer is covered by The Hollywood Reporter, The Huffington Post, The Philadelphia Inquirer, TV.com, TV Guide, TVLine and Zap2it.
• Holy Moly! lists 10 reasons why you should watch Breaking Bad, "Just about the best thing to have been on Television in the past 15 years."
• Flavorwire considers Vince Gilligan one of TV's all-time greatest writers.
• Wetpaint includes Bryan Cranston's head-shave in its examination of the most shocking TV character physical transformations.
• L.A. Weekly spotlights a fictitious Breaking Bad-inspired Ben & Jerry's ice cream flavor designed by a fan: Walter White's Heisen-Brrr-g Crunch.
• ScreenCrush revels in a photo of the Breaking Bad Season 5 cast.
• The Hollywood Reporter compliments Betsy Brandt's work in the upcoming film Magic Mike.
• Check out Twitch to see Bryan Cranston in a trailer for Ben Affleck's Argo.
• Mother Nature Network reports on Bryan Cranston's effort to build a green beach house.
Read More