Press
Vince Gilligan, Aaron Paul in LA Times Roundtables; Esposito Talks Gus's Death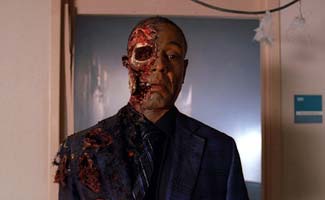 This week, Vince Gilligan and Aaron Paul join Los Angeles Times roundtable discussions while Bryan Cranston, Giancarlo Esposito and Gilligan talk about Gus's death. Read on for more:
• Vince Gilligan explains to a Los Angeles Times show runners roundtable that "wish fulfillment" is behind Breaking Bad's appeal.
• When Jon Hamm mistakenly calls Aaron Paul "Jesse" at a Los Angeles Times Emmy roundtable, Paul responds, "See how he just called me Jesse there? You guys just notice that? That happens all the time."
• HitFix picks Giancarlo Esposito and Aaron Paul for its imaginary Emmy ballot, calling Esposito "an all-time classic TV villain," and asserting of Paul, "I can't ignore how great he is, year after year." Likewise, Broadcasting & Cable thinks best supporting actor is "a race to watch" because of Paul's return to the category. (No Link)
• The Los Angeles Times predicts Emmy nominations for Bryan Cranston (who "remains the favorite" in the lead actor category), Giancarlo Esposito and Aaron Paul — and thinks Anna Gunn could get a nod in the supporting actress category.
• The Los Angeles Times gathers Vince Gilligan, Bryan Cranston and Giancarlo Esposito to dissect Gus's demise.
• Giancarlo Esposito tells Variety he knew Gus had to go: "It's like a Western: The town is too small for both of us and something has to give."
• Indiewire reports on the appearance of Vince Gilligan and the Breaking Bad cast at the Los Angeles Film Festival, including video of the panel. Yahoo! TV files its own report of the occasion.
• Aaron Paul tweets about his last day on the Breaking Bad set.
• Breaking Bad is nominated for six Pan-American Association of Film & Television Journalists (PAAFTJ) Television Awards, including best drama series, best lead actor for Bryan Cranston and best supporting actor for Giancarlo Esposito.
• Breaking Bad won two Critics' Choice Television Awards this week — for Bryan Cranston as best actor in a drama series and Giancarlo Esposito as best supporting actor in a drama series. TVLine covered the event and quotes from Esposito's acceptance speech: "I want to thank the universe for putting me here and allowing me to be present and for allowing me to be so enamored and inspired by the people in this room." Variety thinks Esposito "won for top acceptance speech." TV.com surmises "this was probably the first of many trips to the podium for Esposito this season."
• Vince Gilligan tells Deadline that he's excited about the new season, while Aaron Paul characterizes Season 5 as "the craziest bad-ass season yet."
• Adweek calls Breaking Bad "arguably the finest TV show since David Simon typed the '-30-' at the bottom of the final script of The Wire."
• Bryan Cranston talks to Variety about his experiences directing episodes of Modern Family, Malcolm in the Middle and Breaking Bad: "In directing television, it's not the director's vision, it's the showrunner's vision."
• TODAY.com calls Bryan Cranston's performance on Breaking Bad "too mesmerizing to miss."
• The Los Angeles Times cites Breaking Bad's Albuquerque location as an example of a TV show enriching its "storytelling textures with specific settings."
• Entertainment Weekly, The Huffington Post, New York magazine, TODAY.com, TV Guide, TVLine and Zap2it all feature new Season 5 photos. While speculating about the meaning of the new Breaking Bad photos, TVOvermind says, "the more I looked the more excited I became for Breaking Bad to return."
• TV Fanatic checks out photos from the Season 5 premiere and cautions readers to "Prepare for the beginning of the end: We only have Heisenberg in our lives for 16 more episodes."
• The Hollywood Reporter features a new "explosive" Breaking Bad Season 5 teaser. Cinema Blend, Deadline, Indiewire, ScreenCrush, Screen Rant, TV Fanatic, TVOvermind, TheWrap and Zap2it also spotlight the teaser.
• IGN reports that artist Francesco Francavilla has created Breaking Bad posters depicting the first four episodes of the series, with perhaps more to come.
• Collider.com has a nine-minute fan-made video recapping Breaking Bad's first four seasons.
• HitFix reports on Bryan Cranston hosting the 2012 Television Critics Association awards show in July.
Read More