Press
Bryan Cranston in THR Roundtable; Breaking Bad on EW's Emmy Wish List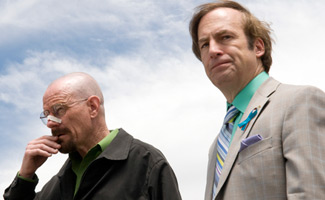 This week, Bryan Cranston chats with The Hollywood Reporter in a roundtable for lead drama actors while Breaking Bad and Cranston appear on Entertainment Weekly's Emmy nomination wish list. Read on for more:
• Bryan Cranston participates in The Hollywood Reporter's drama actor roundtable and shares that Spencer Tracy is his acting hero.
• Entertainment Weekly's Emmy nomination wish list includes Breaking Bad for drama series, Bryan Cranston for best actor, Giancarlo Esposito and Aaron Paul for best supporting actor and Anna Gunn for best supporting actress.
• The Hollywood Reporter chooses Breaking Bad as one of its front-runners for Emmy nominations. The publication also picks Bryan Cranston for best actor and Aaron Paul and Giancarlo Esposito for best supporting actor.
• The Los Angeles Times observes that the best drama field must make room for the return of Breaking Bad, "which, you might remember, put together a pretty amazing season of its own."
• USA Today's dream Emmy ballot has Breaking Bad up for best drama, Bryan Cranston for best actor, Aaron Paul for best supporting actor and Anna Gunn for best supporting actress in a drama.
• Variety includes Breaking Bad's Season 4 Finale in its list of the TV season's top moments.
• Breaking Bad — "TV's finest current show" — is one of The Washington Post's top summer TV picks.
• Bryan Cranston discusses Walt's trajectory with Zap2it: "He made a couple decisions that he thought were beneficial to his family, a couple twists and turns, and suddenly he's no longer himself."
• Bryan Cranston also speaks with Collider.com and Hollywood.com about playing Cohaagen in the upcoming Total Recall.
• Vince Gilligan speaks with Variety about making sure the audience can take a show's "shocking twists" seriously.
• Giancarlo Esposito talks to TheWrap about the beginning of Season 5. TheWrap also profiles Esposito, who "astonished audiences and critics as the ruthless but graceful Gus."
• Indiewire thinks Aaron Paul is a TV star that should break through to the big screen soon, citing his "consistently astonishing performance" on Breaking Bad.
• Yidio thinks Breaking Bad is TV's best show right now, citing "four seasons of drama that is eventful, nail-bitingly suspenseful and action-packed, yet at times quiet and contemplative."
• Breaking Bad is No. 2 on Indiewire's list of the season's top 10 TV shows, noting that "nothing else has anything to compare to the titanic performance of Bryan Cranston."
• CinemaBlend covers the Breaking Bad trailer for Season 5, as does Digital Spy, Yidio and Zap2it.
• IGN's review of the Breaking Bad Season 4 Blu-ray comments on the "ever-escalating game of cat and mouse between Walter White and Gus Fring that delivered one unbelievable and gripping moment after another."
• College Humor creates a sigil for Breaking Bad's White family — based on those popularized by HBO's Game of Thrones — with the motto "I am the one who knocks."
• The next two works of art in the Breaking Bad Art Project are "The Rise and Fall of Jesse Pinkman" and a rendering of Los Pollos Hermanos, according to /film.
• While seeking a Breaking Bad fix, ScreenCrush unearths clips of Giancarlo Esposito on Sesame Street and Aaron Paul in a Corn Pops ad.
• Bryan Cranston stars in Warner Brothers' Rock of Ages, out this weekend. Vote for your favorite Bryan Cranston movie now on AMCtv.com's Movie List.
Read More