Press
Vince Gilligan in THR Roundtable; Aaron Paul Talks Season 5 With Conan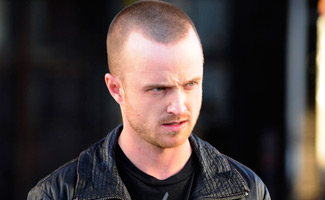 This week, Vince Gilligan talks Gus's death in The Hollywood Reporter's showrunners roundtable and Aaron Paul pays a visit to Conan O'Brien. Plus, Bryan Cranston talks about directing with Variety. Read on for more:
• Vince Gilligan participates in The Hollywood Reporter's showrunners roundtable, in which he likens Gus's death to Highlander: "There could be only one at the end."
• Aaron Paul appears on TBS' Conan, where he divulges, "There may or may not be a lot of deaths" in the new season. Paul also talks with Spin and names Jonathan Banks as his co-star with the best taste in music: "I walk by his trailer and he's blasting Mozart. He turned me on to Édith Piaf."
• Using his Twitter account, Aaron Paul gives fans an opportunity to call him at a New Mexico pay phone and ask their questions about Breaking Bad.
• Variety talks to Bryan Cranston about directing an episode of ABC's Modern Family. He says, "You wind up using a different set of muscles directing than you do acting."
• Flicks and Bits chats with Bryan Cranston about his role as Vitaly the Tiger in Madagascar 3: Europe's Most Wanted.
• The New York Post calls Bryan Cranston's Walter White the "best antihero on television. Not just today, but ever."
• The Hollywood Reporter speaks to Giancarlo Esposito about playing Gus, "whom Esposito embodied as convincingly as his own skin." (No Link.) The Hollywood Reporter also considers Gus's death to be one of TV's most shocking, while the Los Angeles Times calls Gus a character "we hate to love." (No Link.)
• Deadline thinks Emmy nominations are "all but guaranteed" for Bryan Cranston and Aaron Paul — and believes the chance of Giancarlo Esposito garnering a best supporting actor nod is "looking good." TVLine thinks the best supporting actor race will become a "duel" between Aaron Paul and last year's winner, Peter Dinklage of Game of Thrones, and considers Esposito a "wild card to watch" for a nomination.
• The Guardian calls Breaking Bad "the best crime drama ever made."
• The Los Angeles Times suggests a summer vacation to Albuquerque with a stop at Los Pollos Hermanos, where "owner Gus Fring is often on hand to deliver polite, efficient service, though for some reason we haven't seen him much lately." (No Link.)
• Betsy Brandt, Bryan Cranston, RJ Mitte and Aaron Paul bowl against a crew from Nerdist: "You've been waiting for this one, and it won't disappoint. (Got a problem with it? Better call Saul!)"
• Breaking Bad's Season 5 poster is spotlighted by Cinema Blend, Collider.com, Entertainment Weekly, The Hollywood Reporter, The Huffington Post, New York Magazine, ScreenRant, TV Fanatic, TVLine, TheWrap and Zap2it.
• The New York Times considers Breaking Bad's return one of the summer's TV highlights. Meanwhile, the Denver Post considers Breaking Bad one of the best things of summer TV viewing while Postmedia News calls Bad "must-see" viewing. Breaking Bad is Complex Magazine's most-anticipated TV show this summer and is one of TV Fanatic's most anticipated summer shows as well.
• Examiner.com reports that Anna Gunn is set to participate in an Academy of Television Arts and Sciences staged reading of Marty in Los Angeles this week.
Read More