Press
Entertainment Weekly Calls Breaking Bad Unmissable; TheWrap Predicts Emmy Noms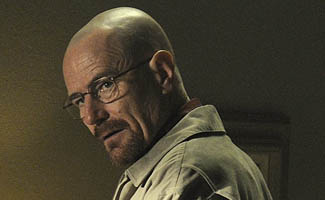 This week, Entertainment Weekly advises "don't miss" Breaking Bad, while USA Today compares the drama to a diamond. Plus, TheWrap predicts Emmy glory for the drama and Bryan Cranston. Read on for more:
• Of Breaking Bad, Entertainment Weekly advises, "Don't miss a single episode of the critically acclaimed show's fifth season," which starts July 15. (No Link.)
• One of USA Today's 12 shows to watch this summer is Breaking Bad, which it describes as "hard and sharp and brilliant as a diamond."
• Walt sits in Entertainment Weekly's bullseye, which asks, "Is it possible to love a homicidal meth lord with unfortunate facial hair? Absolutely." (No Link.)
• TheWrap predicts that Breaking Bad will (and should) win the Best Drama Emmy this year, noting that "nothing on television was as flat-out dramatic — and insanely addictive." TheWrap also thinks Bryan Cranston will win the lead actor Emmy because "no one else came close" to him this year.
• TVLine picks Breaking Bad as one of its dream Emmy nominees for Best Drama, calling Season 4 "its strongest season to date."
• Bryan Cranston tells Entertainment Weekly that Season 5 is "a nasty ride. And it's all because the man making this decision was selfish and hasty and he compromised his integrity." (No Link.)
• Giancarlo Esposito speaks about his new theater role with The New York Times, which calls Gus "the buttoned-up criminal mastermind who sent an electrifying chill" through Breaking Bad.
• Wetpaint crowns Breaking Bad's Season Finale as the most epic TV episode ever, saying it "wins hands down for most incredible machinations carried out by a single character."
• Breaking Bad is one of TheWrap's 56 reasons to watch TV this summer. Similarly, Breaking Bad is the Contra Costa Times' top summer TV pick and The Week recommends Breaking Bad's "transfixing drama."
• Breaking Bad's July 15 premiere is highlighted by The Associated Press, The Boston Globe, the Detroit Free Press, The Detroit News, E! Online, HitFix, IGN ("Holy hell! Breaking Bad is back."), NBC Chicago, The Orange County (Calif.) Register, PostMedia News, The San Diego Union-Tribune, The Toronto Star and USA Today.
• /film reports that the two latest pieces of art in the Breaking Bad Art Project are an image by Justin Santora of Walt in his backyard looking at Wayfarer 515 and a tribute to Saul.
Read More