Press
Breaking Bad on EW's Summer Must List While GQ Deems Vince Gilligan an Auteur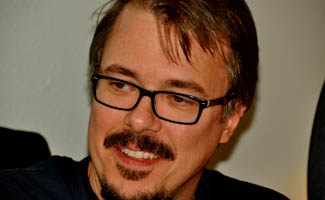 This week, Breaking Bad appears on Entertainment Weekly's summer Must List and GQ calls Vince Gilligan an auteur. Plus, LA Weekly considers RJ Mitte "fascinating" in a profile. Read on for more:
• Breaking Bad's return lands on Entertainment Weekly's summer Must List.
• GQ calls Vince Gilligan (and Mad Men's Matthew Weiner) one of this generation's auteurs. He says filming is more fun than writing, which he compares to "getting hit in the head repeatedly with a mallet." (No Link.)
• LA Weekly names RJ Mitte a "fascinating Angeleno." Of Breaking Bad, he quips, "I get to cuss on national television and get away with it."
• The Guardian interviews Vince Gilligan about Breaking Bad, noting it "may require a strong stomach, but Breaking Bad also rewards a thoughtful mind."
• TIME recommends Breaking Bad for summertime viewing, describing the drama as "a thriller about the capacity for evil." (No Link.)
• WhatCulture declares Breaking Bad the "greatest TV show of all time" and lists five reasons why.
• Yidio considers Breaking Bad one of the summer's five "awesome" TV shows, calling it "truly one of the best, most heart-stopping shows on TV."
• Zimbio calls Gus's death one of TV's most shocking, saying the Season 4 finale was "explosive–literally."
• /film reports that the second piece of art featured by BreakingGifs.com is a "slightly abstract" poster of Tio Hector Salamanca's bell, while the third piece is Gus-related.
• The Telegraph's review of Breaking Bad's Season 3 DVD calls the show "eye-bleedingly addictive. I defy you not to become hooked."
• Since FOX's Rebounding, which included Matt L. Jones (Badger) in the cast, wasn't picked up, New York magazine hopes this means "maybe he'll pop back up" on Breaking Bad.
• Breaking Bad's July 15 return was spotlighted by A.V. Club, Entertainment Weekly, E! Online, HitFix, The Hollywood Reporter, The Huffington Post, the Los Angeles Times, New York Magazine, The New York Times, Time, TVLine, USA Today, Variety, The Washington Post and Zap2it.
• Digital Spy, Screen Crush and Wetpaint share the first Season 5 image, with Wetpaint commenting, "It's so good to see Walter White and Jesse Pinkman together again. Even if they don't exactly look happy."
• New Mexico's KOB Eyewitness News 4 reports on Bryan Cranston's celebrity softball team (featuring Jonathan Banks and Steven Michael Quezada) raising money in a game against the Wounded Warriors Amputee Softball team.
• Tina Fey joked in her 7 Minutes in Heaven interview with Mike O'Brien about her 30 Rock character, Liz Lemon, appearing on Breaking Bad.
• The Hollywood Reporter says a film called Girlfriends Day, to be directed by Bob Odenkirk and starring Odenkirk and Bryan Cranston, will be backed by BiteSize Entertainment, a new multi-platform studio.
• TVLine mentions Betsy Brandt guest-starred on last week's episode of USA's Fairly Legal.
• According to The New York Times, Giancarlo Esposito is featured in the Atlantic Theater Co.'s Storefront Church, which is currently in previews and opens Mon., Jun. 11.
• Brand New Cool relishes Giancarlo Esposito's latest guest-star appearance on Community.
Read More