Press
New York Magazine Spotlights Aaron Paul; Bryan Cranston Chats With Huffington Post UK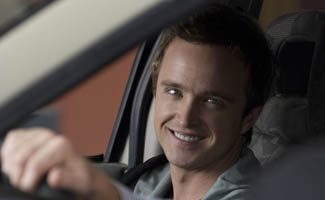 This week, New York magazine celebrates Aaron Paul in its TV issue while Bryan Cranston chats up The Huffington Post UK in lieu of the Season 3 DVD release abroad. Plus, Vince Gilligan sympathizes with British viewers who have trouble getting access to Breaking Bad. Read on for more:
• New York's TV issue profiles Aaron Paul and comments that "Jesse, the expendable, has become one of the most complex characters on the show."
• Ahead of the Breaking Bad Season 3 DVD release in the U.K., Bryan Cranston tells The Huffington Post UK that Breaking Bad has "struck a chord because we dare to be dark." In its review of the DVD, HeyUGuys says, "Breaking Bad has in no way lost its zing."
• Vince Gilligan tells Digital Spy he feels the pain of U.K. viewers who can't see Breaking Bad, saying, "It's always a disappointment when I hear that we have a lot of fans in places that don't regularly receive our show."
• Excited for the upcoming season of Breaking Bad? You're not alone! The DJs of Hood Internet showed up in Hazmat suits (along with Giancarlo Esposito) at a recent concert in Irving Plaza. Check out the footage from the event.
• New York magazine discusses TV watching as a group activity, citing Breaking Bad's Season 4 finale: "When a startling act of violence decisively altered the show's narrative, my Twitter feed became a ticker-tape record of awe and horror."
• TVLine reports that Jesse Plemons (formerly of Friday Night Lights) has been cast in a recurring Season 5 role.
• The Huffington Post spotlights an artist who imagines fictional families, like the Whites, in awkward, JCPenney-style family portraits.
• Wired notes that Walter White's meth "might cause cavities" because the show uses rock candy as the drug's stand-in.
• The Orange County Register lauds Breaking Bad for choosing to end "while still one of the handful of best dramas on TV."
• The Los Angeles Times reports that the Los Angeles Film Festival next month will feature a discussion with Vince Gilligan, Bryan Cranston, Aaron Paul and Anna Gunn.
• The Toronto Sun includes Breaking Bad: The Complete Fourth Season (out June 5) in its list of top Blu-ray summer releases.
• One thing HitFix learned from watching the new clips for NBC's Revolution: "Giancarlo Esposito is the steely-eyed enforcer ." The Los Angeles Times has a trailer for the show. NBC.com has a video of Esposito talking about the show. New York Magazine awards the drama "bonus points for putting Giancarlo Esposito on a horse." Ology's one-word review: "Gus!"
Read More