Press
Wall Street Journal Eager for Breaking Bad; Flavorwire Makes Season 5 Predictions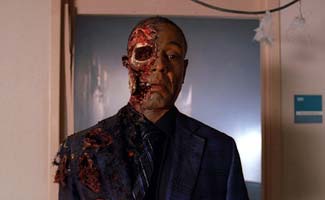 This week, Flavorwire predicts what will happen in Season 5 of Breaking Bad and The Wall Street Journal spotlights the drama in its Summer TV roundup. Read on for more:
• Flavorwire makes its predictions for Season 5, such as "Walter will win Mike onto his side" and "Saul will survive everything (Because cockroaches always do.)."
• The Wall Street Journal includes Breaking Bad in its summer TV roundup, noting the drama "has managed to maintain its speedy pace–and pick up a load of awards–without losing love from viewers and critics."
• According to /film, BreakingGifs.com is starting a viral campaign to promote Breaking Bad Season 5, linking each week to "a new piece of Breaking Bad themed art by well-known and up and coming artists." /film also has the first piece of Breaking Bad art.
• ContentAsia says Breaking Bad will air in Asia starting June 7, though "some moments of over-the-top violence and drug use have been edited, along with some language and nudity." (No Link.)
• New Mexico's KOB-TV reports that Bryan Cranston has organized a celebrity baseball game to raise money for returning soldiers. The Albuquerque Journal says "a few" of Cranston's Breaking Bad cast mates will play in the game, as is Lou Diamond Phillips.
• TV Fanatic's review of last week's episode of FOX's The Simpsons says Bryan Cranston voicing the character of Stradivarius Cain was "probably the most entertaining part of Homer's plot."
• Courtesy of Slate, catch Bryan Cranston in the trailer for Argo, a film directed by (and starring) Ben Affleck.
• A.V. Club reports that Dean Norris guest-starred in last week's episode of Cartoon Network's Eagleheart, which calls it an "instance of favored-cable-drama-to-farcical-comedy crossover."
• Screen Rant gives Dean Norris's film Get the Gringo, also starring Mel Gibson, three-and-a-half stars. WhatCulture!'s review of the film highlights "a small cameo by the brilliant Dean Norris."
• Entertainment Weekly has a photo of Giancarlo Esposito from Revolution, the JJ Abrams drama that the network recently picked up.
• Check out Matt L. Jones (Badger) in the trailer for Dirty Work, described by Boing Boing as an "extremely clever, well-put together interactive gruesome comedy series."
Read More