Uncategorized
Q&A – Lavell Crawford (Huell)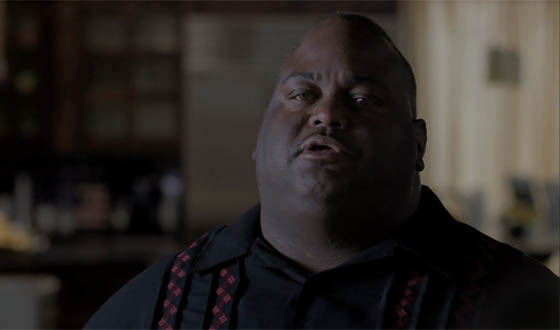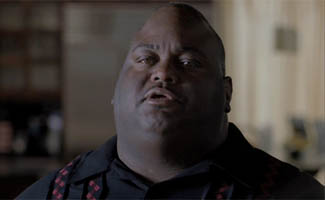 Comedian Lavell Crawford — Saul Goodman's bodyguard Huell — explains how working with prisoners informed his character and how he worked Breaking Bad into his stand-up routine.
Q: What was it like to go from being a stand-up comic to a tough guy on Breaking Bad?
A: I loved it, it was a great opportunity to be on a hot show. There were a lot of directors and they wanted to shoot so many angles — like the scene where I had to take a dump? They made me do seven different takes! They were like, "Do a little more, act like it came out a little more." I was like, "Jesus Christ I'm about to crap on myself!"
Q: What did you think when you showed up on set to find that you were actually one of two comedians playing Saul Goodman's henchmen?
A: When I walked in and saw Bill Burr (Kuby), I thought it was hilarious. We've worked together as comedians, so he laughed and I laughed too. It was so funny that we were playing these guys that were going to scare the hell out of Ted.
Q: Did you get a chance to do stand-up in Albuquerque?
A: No, we didn't have any time for that. It's so cloak-and-dagger that you don't get your script until the night you get there, so after that you're getting your mind together for the show. Us comedians are very meticulous and we want to do it right on screen, you know, so if I'm choking a guy or whatever, I still want to practice.
Q: What was your prep like for the big scene where Huell and Kuby go to collect from Ted Beneke?
A: I just played intimidating, like my daughter was going on a date with somebody I didn't know. Or like I was working security and my feet hurt and I didn't want to be there. I used to be a turnkey in the City of Pagedale Municipal Courthouse, when they're putting in the prisoners with misdemeanors or traffic tickets or gangster-type folks and all that. So it kind of came naturally.
VIDEO: Inside Episode 411, "Crawl Space"
Q: What's the secret to looking intimidating?
A: You really gotta look like you got a little bit of gas. Almost like you want to say something real rude but you're holding it in. It's not a real grimace — it's just a state of mind, like you're looking right behind that person and you're in another world, where you look like you're mad but they don't know if you're going to kill them or you're sleeping.
Q: You ever use that look to your benefit in real life?
A: I do it to my 15-month-old son all the time. It works sometimes.
Q: On Breaking Bad, which characters crack you up?
A: I always liked Gustavo. He was so cool even to the last drop, when he came out straightened up his tie and fell down. And then my man [Tio] who talks with the bell, that was just genius. He was snitching with his bell, he pissed on the floor — he could do so much without saying anything.
Q: Huell and Kuby are part of Saul Goodman's "A-Team." Who from the show would be on your A-team?
A: I like the twins, man. They didn't say nothing. They were pretty hard. I really like the bad guys so the twins would be on my A-Team because ain't nobody going to be able to mess with me if they're hanging out with me.
Q: Do you ever bring your experiences on the show into your stand-up routines?
A: A little bit, but I don't talk about it much. I do one thing about crystal meth about how it's a kind of a white man's drug — there's so much science and math going into it! If I gotta pull out some trigonometry to get high, I'm going to rehab.
Q: In your stand-up routines you talk about white people problems. Do you think Walt and Jesse's predicaments are "white people problems"?
A: You know, Walt is very financially savvy with his money. If he was black he'd be blinging and have a few Escalades and most definitely be cheating on Skyler. They'd have shot each other by the second season.
Click here to read an interview with comedian Bill Burr, who plays fellow henchman Kuby.
Read More