Press
Breaking Bad Receives Six Saturn Award Nominations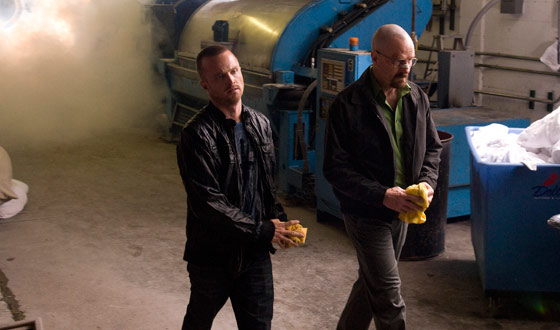 The Academy of Science Fiction, Fantasy & Horror announced its nominees for the 38th annual Saturn Awards, and Breaking Bad received a total of six nominations across four categories. The series itself was nominated for Best Syndicated/Cable Television Series, while Bryan Cranston (Walter White) was nominated for Best Actor on Television, Aaron Paul (Jesse Pinkman) and Giancarlo Espositio (Gus Fring) were both nominated Best Supporting Actor on Television, and Steven Bauer (Don Eladio) and Mark Margolis (Tio) were both nominated for Best Guest Performer on Television.
Breaking Bad's nominations are among twelve garnered by AMC this year, with The Killing receiving four nominations and The Walking Dead netting two.
For Best Syndicated/Cable Television Series, Breaking Bad will be competing against F/X's American Horror Story, TNT's The Closer and Leverage, Showtime's Dexter, and HBO's True Blood.
Cranston will be competing for Best Actor along with Game of Thrones' Sean Bean, Dexter's Michael C. Hall, Leverage's Timothy Hutton, and American Horror Story's Dylan McDermott.
Esposito and Paul will be facing off for Best Supporting Actor along with Kit Harington of Game of Thrones, Joel Kinnaman of The Killing, John Noble of Fringe, Bill Pullman of Torchwood: Miracle Day, and Norman Reedus of AMC's The Walking Dead.
Bauer and Margolis will be competing in the Best Guest Performer category alongside Orla Brady of Fringe, Edward James Olmos of Dexter, Zachary Quinto of American Horror Story, and Tom Skerritt of Leverage.
The 38th annual Saturn Awards will take place on Wed., Jun. 20.
Read More