Press
Breaking Bad Advances in New York's Greatest TV Drama Contest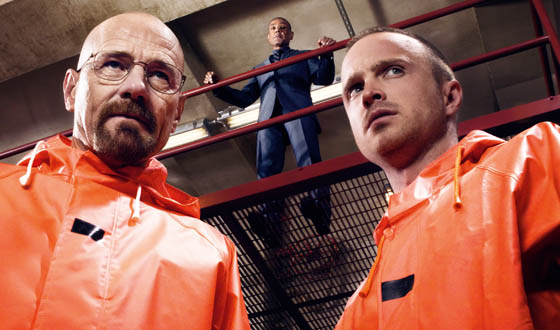 This week, Breaking Bad advances to the second round of New York Magazine's Greatest TV Drama contest. Plus, Mike Nichols reveals himself to be a fan of the show, and Hollywood.com names Jane's demise as one of the most shocking TV deaths ever. Read on for more:
• Breaking Bad ("It's not just great television. It's great art.") defeats Friday Night Lights to make it into the second round of New York magazine's contest to determine the greatest TV drama of the past 25 years.
• Mike Nichols tells the Los Angeles Times that he's a fan of Breaking Bad.
• Hollywood.com includes Jane's demise as one of the eight most shocking TV deaths, highlighting it as the "first real step in Walt's big, bad breakdown."
• Indiewire compiles the prologues from each episode of Breaking Bad in Season 3 and 4, wondering if the show's narrative would make sense if you watched them all in chronological order.
• Breaking Bad is one of the TV shows What Culture thinks you should be watching, applauding Season 4 as "the most phenomenal thing that has ever been produced in the history of television."
• The International Business Times includes Bryan Cranston on its list of actors who made a successful transition from comedy to drama.
• TVWise reports that Sony will release Breaking Bad's Season 3 DVD in the U.K. in May, noting that Season 3 has not been broadcast on U.K. television.
• In a video interview, Bryan Cranston speaks with OnTheRedCarpet.com about his role in John Carter and his fascination with Mars and the moon.
• According to Indiewire, Sassy Pants, a film starring Anna Gunn, will close next month's Palm Beach International Film Festival.
• Variety reports that you can catch Bob Odenkirk at adultswim.com in a new web short called "Let's Do This" that he co-created. The Huffington Post exults, "Fans of Mr. Show and Saul Goodman rejoice," while TV.com includes the short as one the week's "swell" things.
• TV Equals was excited to see Mark Margolis in last week's episode of CBS' Person of Interest: "After appearing in eight episodes of the greatest show of all time, Breaking Bad, it's good to see Margolis back on TV."
• NBC's Revolution is the pilot BuddyTV most wants to see, partly because of Giancarlo Esposito, who is one of the show's stars.
• According to Deadline, Steven Bauer (Don Eladio) has joined the cast of a Showtime pilot called Ray Donovan that stars Liev Schreiber.
• Matt L. Jones (Badger) has been cast in a Fox pilot called Rebounding starring Will Forte, TVLine says.
Read More