Uncategorized
See Breaking Bad in a Whole New Light With Hank's Blog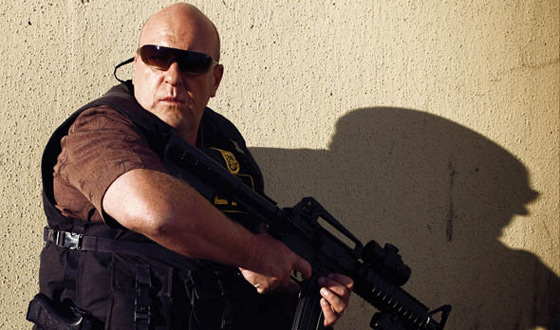 There are multiple sides to any story. Take Walt's brother-in-law, Hank. For him, Breaking Bad is not about the transformation of a chemistry teacher into a drug kingpin, but one of a DEA agent overcoming numerous obstacles in a noble pursuit of justice. (With a fair amount of wisecracks on the side.) If you haven't yet gotten a close look at Hank's Breaking Bad, now's a great time to check it out via his personal blog, which has run on AMCtv.com for the past three seasons. Check out a sampling of excerpts below.
• "Apparently, I've become 'too isolated,' and the perfect solution is to start blogging again… Because nothing says well-adjusted quite like telling a group of faceless strangers how big a s— you took that morning." —Hank's Blog – The Overshare (Season 4 Episode 1, "Box Cutter")
• "I used to imagine one day I'd tool around on one of those little Rascal scooters. Too fat and lazy to walk, loving life — that was the dream. The reality? Not so much." —Hank's Blog – It's All Unicorns Farting Rainbows Around Here (Season 4 Episode 2, "Thirty-Eight Snub")
• "My wife had a little 'misunderstanding' with the authorities that required outside intervention. Because I can't walk or drive, I had to call a buddy to take care of the situation." —Hank's Blog – We're All Winners Around Here (Season 4 Episode 3, "Open House")
• "Sometimes you're going along, thinking this person in your life is exactly who they appear to be. And then, bam! They kick you in the balls with some crazy s— you'd never even guess about them." —Hank's Blog – The Ship Is Waiting (Season 4 Episode 4, "Bullet Points")
• "So there I was, all set to throw in the towel, and then my brother-in-law busts out some wisdom at dinner the other night…. It seems like maybe… my drug kingpin is still out there." —Hank's Blog – Back in Business (Season 4 Episode 5, "Shotgun")
• "I know I've been kind of a dick these past weeks. I mean, I've also been recovering from gunshot wounds that have left me partially paralyzed, so give a guy a break. That said, things are better." —Hank's Blog – Team Spirit (Season 4 Episode 6, "Cornered")
• "Big happenings around here this week. Sit down — this is… well, this is big. Ready? Alright, here we go. Prepare yourself… I left the house." —Hank's Blog – The Upper Hand (Season 4 Episode 7, "Problem Dog")
• "I'm not gonna let some trifle keep me from pursuing what I know to be true. S—, once you've been used for target practice by the best in Cartel trigger men, little things like hiccups in the massive, life-changing case you're building just don't rate anymore." —Hank's Blog – Friendly Competition (Season 4 Episode 8, "Hermanos)
• "If you really want to hide the dark, gross parts of your inner being, you've gotta do it right. You've got to do it smart. Erasing any semblance of real human behavior and acting like a damned robot is not the right way to go about it." —Hank's Blog – Hiding In Plain Sight (Season 4 Episode 9, "Bug")
• "It was my nephew's sixteenth birthday this week. Jesus, where does the time go?
Some days I feel like I just turned sixteen. But then I run my fingers through my hair…
oh yeah." —Hank's Blog – PT Cruising (Season 4 Episode 10, "Salud")
• "I'm feeling better, I'm up and around gimping my way through the world, and then guess what happens? Boom! My brother-in-law has a 'senior moment' and gets us into a car accident. Yep, that's right… add 'car wreck' to my list of bulls— I have had to endure this year." —Hank's Blog – Won the Lottery O' Crap Again! (Season 4 Episode 11, "Crawl Space")
• "No more club-hopping for the ol' Hankster. Nope… I am officially a homebody… I've got some people keeping an eye on me. For my own protection. It's nice to know they care." —Hank's Blog – There's No Place Like Home (Season 4 Episode 12, "End Times")
• "The world is a strange place. This last year has taught me that you really never
know what's gonna come smack you in the face… or shoot you four times and then try to chop your freaking head off." —Hank's Blog – Did Not See That Coming (Season 4 Episode 13, "Face Off")
Click here to check out all of Hank's blog posts.
Read More