Press
Vince Gilligan Talks To TVLine; New York Praises Dean Norris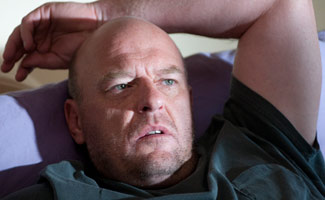 This week, TVLine chats with Vince Gilligan, and New York magazine names Dean Norris one of TV's most underrated ensemble players. Plus, coverage of Breaking Bad's two wins at this year's Writer's Guild Awards. Read on for more:
• In an interview with TVLine, Vince Gilligan says that "Walter White still has a little further to go down that dark path that he's very willfully put himself on."
• New York magazine names Dean Norris as one of "TV's underrated ensemble players," calling Hank "unfairly overshadowed on Breaking Bad."
• The Telegraph says the "brilliant and offbeat" Breaking Bad fully deserved its two Writer's Guild Awards, while Poptimal reports on Vince Gilligan's acceptance speech, during which he said, "I'm amazed the show is even on the air."
• AceShowbiz, the A.V. Club, Digital Spy, DIY, Examiner.com, Gold Derby, the Los Angeles Times, New York magazine, SheKnows, the Telegraph, TheWrap, TV Guide, TVLine and Zap2it all covered Breaking Bad's wins.
• AceShowbiz, the Los Angeles Times, Reuters, UPI and Variety write about Breaking Bad's ACE Eddie Award win.
• Check out Bryan Cranston at TVLine talking about his guest spot on Fox's The Cleveland Show, plus some clips of his appearance.
• The Hollywood Reporter has a photo of Bryan Cranston on the red carpet for the premiere of his new film, John Carter. RJ Mitte was there too.
• Entertainment Weekly has pictures of Bryan Cranston's guest-star turn on the season finale of FX's Archer.
• Giancarlo Esposito talks to TV Guide about his upcoming role on NBC's Community and his sense that "the writers admired Breaking Bad and wanted me to come on and do some semblance of a Gus-like character."
• The Post-Standard reports that Esposito will speak next week about his career at Le Moyne College in Syracuse.
• Vancouver's Georgia Straight interviews Bob Odenkirk and David Cross about their Mr. Show collaboration and their reunion at this weekend's Vancouver ComedyFest.
• Warming Glow presents an image from Breaking Bad juxtaposed with a quote by Omar Little from The Wire.
Read More