Press
Emmy Chats with Gilligan; Orlando Sentinel, St. Louis Post-Dispatch Hail Breaking Bad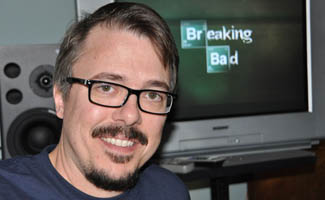 This week, Emmy magazine conducts an extensive interview with Vince Gilligan, while Breaking Bad is hailed as one of TV's best shows by the Orlando Sentinel and the St. Louis Post-Dispatch. Read on for more:
• Vince Gilligan talks to Emmy magazine about Breaking Bad's origins, characterizing Walt as a man who's "kind of sleepwalking through life, and then he finds out he's got cancer. That changes his worldview in a very quick second."
• The Orlando Sentinel thinks Breaking Bad is "the best show on TV." (No Link)
• The St. Louis Post-Dispatch chooses Breaking Bad as the best drama on cable TV, applauding both Bryan Cranston and Aaron Paul.
• Geeks of Doom reviews the first three seasons, concluding, "Breaking Bad is an extraordinary achievement for a television series."
• Yidio has a Breaking Bad-themed Valentine's Day card with a message from Walt.
• HeyUGuys features a poster and teaser trailer for How I Spent My Summer Vacation, a film starring Mel Gibson and Dean Norris.
• Bryan Cranston is directing an episode of ABC's Modern Family, and TheWrap features tweets about him from the cast, including Julie Bowen ("I can't stop asking him about @breakingbad").
• Monsters and Critics reports that Bryan Cranston will be a presenter at the Film Independent Spirit Awards later this month.
• New York magazine reports that Giancarlo Esposito is currently shooting a guest spot on NBC's Community.
• The Hollywood Reporter says Tribeca Film has acquired the U.S. rights to The Giant Mechanical Man, which features Bob Odenkirk. Also, The Hollywood Reporter says Odenkirk will participate in Amnesty International's Secret Policeman's Ball, along with other comedians and musicians at the free speech event.
Read More