Press
Shortlist Names Breaking Bad One of the Coolest TV Shows Ever; Aaron Paul Talks to Collider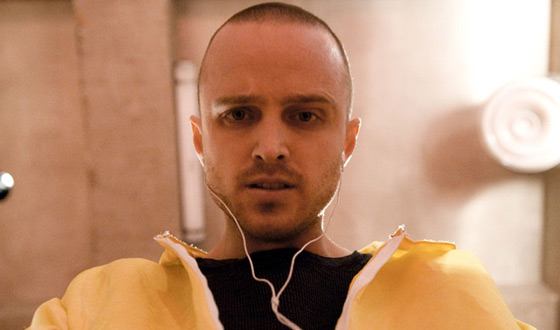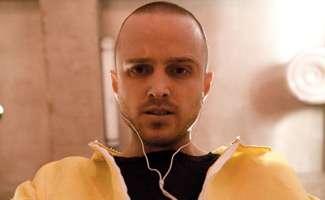 This week, Breaking Bad is named by the U.K.'s Shortlist magazine as one of the 50 coolest TV shows of all time, and Aaron Paul speaks to Collider and hits the red carpet at the SAG Awards. Plus, Breaking Bad becomes both a rock opera and old-school role playing video game. Read on for more:
• The U.K.'s Shortlist calls Breaking Bad one of the 50 coolest TV shows ever, complimenting the drama for serving as "a modern-day fable."
• Aaron Paul speaks to Collider.com about Breaking Bad's final season, as well as his many movie projects.
• On the SAG Awards red carpet, Aaron Paul tells Buzz Sugar how shocked he was by the final moments of the Season 4 finale: "Oh my God, Walter White just continues to be so venomous." Paul also spoke with MTV about the Rat Pack-esque ad he did with Diddy. Socialite Life has a photo of Paul on the red carpet.
• Anna Gunn speaks to the Los Angeles Times about Breaking Bad: "It's been an incredible ride. And you wouldn't think so with such an unusual story line like ours."
• The Washington Post has a photo of Bryan Cranston presenting at the SAG Awards along with Julianna Margulies of CBS' The Good Wife. RJ Mitte was at the SAG Awards too, strolling the red carpet. Meanwhile, Cranston, along with his wife, also attended the Directors Guild of America awards ceremony.
• CollegeHumor presents Breaking Bad as a "fantastic video, old-school RPG [role playing game] style," according to CNET, complete with morally ambiguous characters.
• It's your chance to see actors singing the roles of Walt, Jesse and the rest. Check out Vimeo for a performance of "Walter White and the Amazing Blue Crystal Meth: A Breaking Bad Rock Opera" at the Upright Citizens Brigade Theatre in Los Angeles.
• Giancarlo Esposito tells Variety he thinks a merger of two actors' unions, SAG and AFTRA, is "a must — it's advantageous to all of the people involved." Dean Norris and Jonathan Banks spoke with Deadline Hollywood about the same issue.
• TVLine reports that Bryan Cranston is near a deal to direct an episode of ABC's Modern Family.
• The Huffington Post hails Aaron Paul's performance in Smash, which screened at the Sundance Film Festival, as "played with equal parts ache and bravado."
• The Huffington Post discusses Bryan Cranston's appearance on the season finale of The Mortified Sessions on the Sundance Channel.
• The Los Angeles Times reports that Secrets of Eden, a mystery starring John Stamos and Anna Gunn, airs Saturday night on Lifetime.
• According to the U.K.'s Telegraph, John Leguizamo compares TV to the theater: "It's taking risks. Look at Mad Men and Breaking Bad. They're incredible and everyone rushes home to see these shows."
Read More