Press
Aaron Paul Talks Breaking Bad with New York, HitFix, The Hollywood Reporter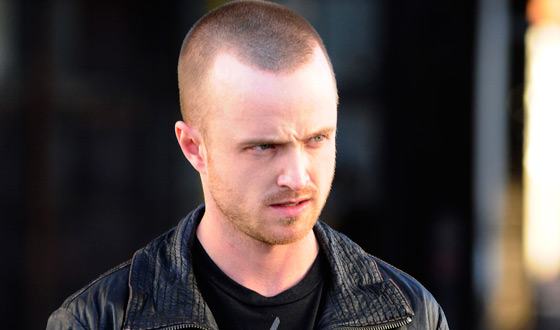 This week, Aaron Paul was at the Sundance Film Festival for his new movie, Smash, and took time to speak with numerous publications, including New York magazine, HitFix, and The Hollywood Reporter, about Breaking Bad's upcoming final season. Plus, Betsy Brandt talks to Terra about the SAG Awards and her new film, and coverage of Breaking Bad's latest award nominations. Read on for more:
• At the Sundance Film Festival, New York magazine speaks with Aaron Paul about Walt and Jesse's relationship (and other things too): "I hate Walt for what he's done to Jesse. If only Jesse knew all the horrible things that he did, oh my god."
• Paul also talks to HitFix about the "bittersweet" feeling of approaching Breaking Bad's final season. (There's also a separate interview with HitFix about his movie Smashed).
• In an interview with The Hollywood Reporter, Paul says he thinks Breaking Bad's final season is "just going to be a race to the finish, definitely swing for the fences on this one."
• Paul also chats with MTV about Breaking Bad's home stretch, saying "It's going to be pretty intense." He speaks with indieWIRE as well.
• Also while at Sundance, Paul was seen snowboarding (by Just Jared), partying (by The Huffington Post), playing Jenga (by NPR), and being interviewed (by The Washington Post).
• Terra Networks talks to Betsy Brandt about the SAG Awards and her new movie, Magic Mike.
• Breaking Bad's nomination by the Cinema Audio Society in the Outstanding Achievement in Sound Mixing, Television Series category for Season 4, Episode 13, "Face Off," was covered by Gold Derby, The Hollywood Reporter and TheWrap.
• Breaking Bad's Golden Reel nomination was covered by Deadline Hollywood, The Hollywood Reporter, Los Angeles Times, TheWrap and Variety.
• CafeMom names Breaking Bad one of its six "awesome TV shows with special needs kids in the spotlight."
• The Atlantic discusses how shows handle fatherhood, citing Breaking Bad as an example where the new baby doesn't significantly change the show's "overarching narrative."
• MTV says Smashed, starring Aaron Paul (and Nick Offerman of NBC's Parks and Recreation), is one of the most anticipated movies at the Sundance Film Festival, billing it as "Jesse Pinkman and Ron Swanson star in a movie together." The Salt Lake Tribune praises Paul and his co-stars for their "strong, authentic performances."
• Aaron Paul doesn't say much to MTV about the rumors that he'll land a part in the new Die Hard movie, saying, "Who doesn't want to run around and shoot machine guns and jump out of helicopters with Bruce Willis?"
Read More