Press
Breaking Bad Named to Best of 2011 Lists by Huffington Post, St. Louis Post-Dispatch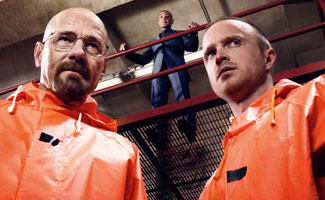 This week, Breaking Bad is named one of the best shows of 2011 by outlets including the Huffington Post and the St. Louis Post-Dispatch, and E! Online predicts Bryan Cranston will win a Golden Globe this weekend. Plus, more award nominations for the show, Aaron Paul gets engaged, and Jaleel White, a.k.a. "Steve Urkel," expresses interest in guest starring. Read on for more:
• Breaking Bad is the Huffington Post's choice for best returning dramatic series of 2011 because it's "one of those rare remarkable shows that truly improve as they get older."
• The St. Louis Post-Dispatch praises Breaking Bad as the best of 2011, calling it "amazing to watch."
• The Reno News & Review applauds Breaking Bad as "the new kingpin, and it completely delivered in Season 4."
• Bryan Cranston is 411mania's pick for last year's best male TV performance: "He packed a lifetime of work into a stunning single-season performance that towered over anyone else today." Breaking Bad also tied (with AMC's The Walking Dead) for first place in their race for best drama, calling the show "completely fearless television without boundaries or limitations."
• Breaking Bad is one of Complex.com's most anticipated shows this year because "there's no doubt in our minds that Breaking Bad mastermind Vince Gilligan won't chump out in any way, shape, or form" when concluding the drama's story.
• E! Online predicts Bryan Cranston will win the Golden Globe for best drama TV actor on Sunday because he "continues to blow the competition out of the water with his gripping performances."
• Vince Gilligan has been nominated by the Directors Guild of America for his work on the Season 4 finale, "Face Off." The news was covered by Variety, the Los Angeles Times and TheWrap, among others.
• Breaking Bad's Season 4 finale, "Face Off," has been nominated by the Visual Effects Society in the category of Outstanding Supporting Visual Effects in a Broadcast Program. The nominated team includes The Walking Dead's Greg Nicotero.
• The Gay and Lesbian Entertainment Critics Association nominates Bryan Cranston for TV Performance of the Year. He's up against Claire Danes of Showtime's Homeland, Jessica Lange of FX's American Horror Story, Kate Winslet of HBO's Mildred Pierce and Madeline Stowe of ABC's Revenge.
• E! Online reports that Aaron Paul is engaged to be married to activist Lauren Parsekian. after proposing in Paris on New Year's Eve.
• CinemaBlend highlights a fan video that features "the clever way [Breaking Bad] often includes strange character angles to give us a different perspective on what the characters are up to."
• New York magazine features Giancarlo Esposito's AMA (ask me anything) session on Reddit, while Flavorwire has highlights and a link to the conversation's entire thread.
• The Huffington Post reveals that Bryan Cranston will guest-star on the season finale of FX's Archer, playing an astronaut.
• Watch for Bryan Cranston voicing the character of a Siberian tiger in Madagascar 3, Entertainment Weekly reports. The directors liked the "resonate tone" of Cranston's voice.
• According to TheWrap, Sassy Pants, a comedy starring Anna Gunn, will be screened at the Santa Barbara International Film Festival (which starts later this month).
• Examiner.com picks Anna Gunn as the year's best Los Angeles-area theater actress for her turn in Radiance: The Passion of Madame Curie, saying she was "superb in bringing the passionate, feminist Madame Curie to life."
• Broadway World reports that RJ Mitte gave a keynote address this week at an event promoting the inclusion of people with disabilities in the media.
• According to Broadway World, Bob Odenkirk will participate in SF Sketchfest, which starts later this month.
• CinemaBlend reports that the name of a Mel Gibson film which co-stars Dean Norris has been changed to Get the Gringo from How I Spent My Summer Vacation.
• Actor James Marsden tells the Los Angeles Times that a guest spot on Breaking Bad "would be awesome."
• Jaleel White, who famously played Steve Urkel on '90's sitcom Family Matters, says he "would love to be on Breaking Bad," TheWrap reports.
Read More