Press
AP, Detroit Free Press, Houston Chronicle Name Breaking Bad One of 2011's Best TV Shows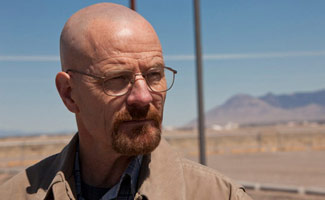 This week, publications including the AP, the Detroit Free Press, the Houston Chronicle, the Detroit News, the St. Louis Post-Dispatch, and many more name Breaking Bad to their 2011 Best of TV lists. Plus, the Los Angeles Times predicts Bryan Cranston will win a SAG Award, and TheWrap calls Breaking Bad's final season one of 2012's most anticipated entertainment events. Read on for more:
• Breaking Bad was among the year's best according to the Associated Press, which describes the drama as "bleak, suspenseful, shocking and, at times, bitterly funny."
• The Detroit Free Press proclaims that Breaking Bad's Season 4 elevated "an already incredible TV show into that hallowed 'best TV show ever' conversation."
• The Houston Chronicle's best-of list puts Breaking Bad at No. 2, lauding the drama for, among other things, "one of the most shocking (but dapper!) death sequences of 2011." (No Link.)
• Breaking Bad appears on the Detroit News' year-end ranking, lauded for a Season 4 finale that was "nothing short of brilliant."
• The St. Louis Post-Dispatch lauds Breaking Bad as one of the year's best, remarking, "Every episode brought a new punch in the gut, leading up to a season finale (the tie!) that immediately entered TV legend."
• Breaking Bad is at the top of Scripps News' list of TV's best, praised for "topping itself every season. It's a phenomenal feat for any program but especially stunning in this case."
• The San Antonio Express-News applauds Breaking Bad for its "most intense" season yet.
• The Macon Telegraph's top drama is Breaking Bad, which receives plaudits for being "about as close to perfection as you can ask from a TV series."
• The Albany Times Union's top 10 list compliments Breaking Bad as "superbly written and acted."
• Breaking Bad is a TV Fanatic pick for the year's best TV show: "The best acting, the tightest storytelling, the most riveting main character on television. Brilliant in all levels."
• Breaking Bad garners Best TV honors from SouthCoastToday.com, which marvels, "unlike shows that fade as time goes on this one seems to get even stronger."
• Buzzine deems Breaking Bad the year's top show, saying "the writing, acting, cinematography, and directing of this series are utterly exquisite."
• The Charleston (W. Va.) Gazette picks Jesse as the year's Best Sidekick, Gus as the Best Villain and Giancarlo Esposito as Best Actor, saying "It will be an absolute crime if Esposito is not nominated for an Emmy this year."
• Yidio considers Gus Fring one of the year's best TV villains, remarking, "Giancarlo Esposito was perfection in the role turning Gus into one of the scariest villains on television."
• Gus was the Green Bay (Wis.) Press Gazette's favorite character of the year, noting that his "comeuppance was a stroke of genius on a show that never fails to drop jaws."
• The Kansas City Star's soccer blog really likes Breaking Bad, noting the drama was "totally worth it for Giancarlo Esposito's final scene on the show."
• The Los Angeles Times picks Walt's "I am not in danger, Skyler, I am the danger… I am the one who knocks!" as one of the year's most memorable TV quotes, while the Joplin (Mo.) Globe thinks Walt's "'I am the one who knocks' speech should ensure a place on [Bryan] Cranston's shelf for another well-deserved Emmy."
• The Los Angeles Times predicts Bryan Cranston will win the SAG award for best drama actor, noting it's "absolutely stunning that he has never won here." (No Link.)
• Breaking Bad's last season is one of TheWrap's most anticipated entertainment events this year, because Vince Gilligan and Bryan Cranston have promised that Walt "will not skate by unscathed after his many misdeeds."
• Bryan Cranston is on Hollywood.com's list of 12 Stars You Need to Know in 2012 because he "has been incredibly prolific on the big-screen in recent years."
• In a Variety piece in which TV producers honor their feature film counterparts, Vince Gilligan salutes The Girl With The Dragon Tattoo, saying, "I don't know how they did half what they did in this movie. But man, they did it right."
• Before he inhabited the role of Gus Fring so completely, Giancarlo Esposito was a guest star on CSI: Miami, now airing on AMC.
• TheWrap counts five TV dramas this year with storylines involving dead or endangered children, including Breaking Bad.
• Moviehole concludes that Breaking Bad "pose[s] moral questions instead of illustrating moral certainties."
• LAist reports that Bob Odenkirk and his wife hosted an annual comedy sketch show for kids, dubbed The Not Inappropriate Show, over the New Year's weekend.
Read More