Press
Breaking Bad Nabs MPSE Golden Reel Award Nomination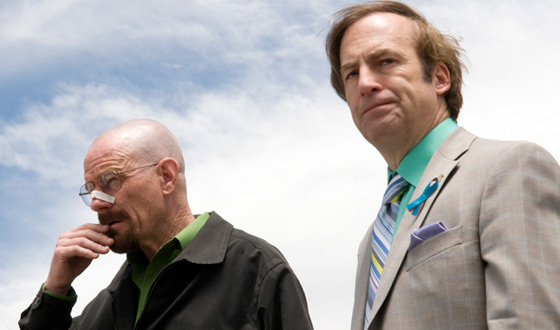 The Motion Picture Sound Editors (MPSE) have announced their nominees for the 59th Annual Golden Reel Awards, and Breaking Bad has been honored with a nod in the Best Sound Editing: Short Form Sound Effects and Foley in Television category for the Season 4 finale, "Face Off."
The full team nominated in the category is as follows:
• Supervising Sound Editor: Nick Forshager
• Foley Artists: Gregg Barbanell M.P.S.E., Dominique Tabach'Decaudain
• Sound Effects Editors: Mark Cookson, Cormac Funge
• Foley Editor: Jeff Cranford
• Assistant Sound Editor: Dana Olsefsky
• Foley Mixer: Stacey Michaels
• FX Re-recording Mixer: Eric Justen
Competing with Breaking Bad are Showtime's The Borgias, Fox's Fringe, HBO's Game of Thrones, Showtime's Homeland, Fox's House, TNT's Rizzoli & Isles, and The WB's Smallville.
The nomination was one of five total Golden Reel nominations for AMC, with The Walking Dead receiving three nominations and Hell on Wheels also receiving a nod.
The MPSE is a non-profit organization whose mission includes mentoring and educating the community about the artistic merit and technical advancements in sound and music editing, as well as providing scholarships and mentorship for the continuing advancement of motion picture sound in education.
The awards will take place on Sun., Feb. 19 at the Westin Bonaventure Hotel & Suites in Los Angeles.
Save
Read More