Press
Breaking Bad Snags VES Award Nomination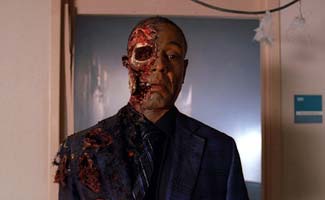 The Visual Effects Society (VES) has announced their nominees for the 10th Annual VES Awards, and Breaking Bad's Bruce Branit, Werner Hahnlein, Gregory Nicotero, and William Powloski have been honored with a nod in the Outstanding Supporting Visual Effects in a Broadcast Program category.
The nomination, the first for Breaking Bad, is for their work on Season 4, Episode 13, "Face Off." Also competing in the category are HBO's Boardwalk Empire, Fox's Bones, HBO's Game of Thrones, and ABC's Pan Am.
The Visual Effects Society, comprised of a diverse group of more than 2,300 members in 26 countries, is the entertainment industry's only organization representing the full breadth of visual
effects practitioners including artists, technologists, model makers, educators, studio leaders, supervisors, PR/marketing specialists and producers in all areas of entertainment from film, television and commercials to music videos and games.
The awards ceremony will take place on Tue., Feb. 7 at the Beverly Hilton (also home to the Golden Globes), and will be broadcast on the ReelzChannel.
Save
Read More