Press
Breaking Bad Receives CAS Award Nomination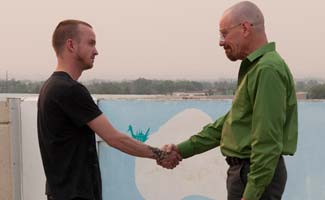 This morning, the Cinema Audio Society announced their nominees for the 48th Annual CAS Awards and Breaking Bad's Darryl L. Frank, Jeffery Perkins, and Eric Justen have been honored with a nod in the Outstanding Achievement in Sound Mixing, Television Series category.
The nomination, the first for Breaking Bad, is for their work on Season 4 Episode 13, "Face Off". Also competing in the Television Series category are HBO's Boardwalk Empire, Showtime's Dexter, HBO's Game of Thrones, and AMC's own The Walking Dead.
The Cinema Audio Society is a philanthropic, non-profit organization formed in 1964 for the purpose of sharing information with sound professionals in the motion picture and television industry. Members include Mixers (production and post production, film and video) who work on feature films, television, and commercials; Mixers who specialize in music scoring, video post sweetening, A.D.R. and Foley; Sound Specialists such as sound editors, technicians, recordists, and microphone boom operators; and companies in the audio and video fields.
The awards will be presented during a dinner on Sat., Feb. 18th at the Millennium Biltmore Hotel in Los Angeles.
Save
Read More