Press
Breaking Bad Makes Best of Lists for 2011 of The Boston Globe, New York Mag, and Collider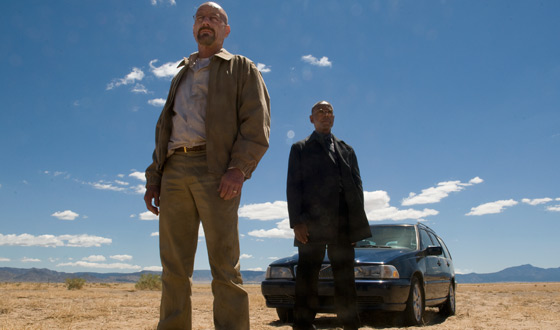 This week, publications including The Boston Globe, LAist, the Tampa Bay Times, the Orange County Register, the Contra Costa Times, and The Buffalo News all named Breaking Bad to their year-end best of TV lists. Read on for more news.
• The Boston Globe made Breaking Bad one of its picks for the top ten shows of the year, noting that the series "is on my all-time top 10 list at this point."
• Breaking Bad is included on LAist's Top 10 TV Dramas of 2011 list: "Vince Gilligan manages to push this show to unparalleled heights from episode to episode."
• The Tampa Bay Times' list of shows worth watching in 2011 includes Breaking Bad: "Props to Giancarlo Esposito for playing crime boss Gus Fring as a buttoned-down menace"
• New York magazine declares, "nothing in movies could touch the last third of the season of Breaking Bad."
• Breaking Bad enjoys the top spot on Complex's top 25 list: "There's really nothing to left to do but bow down to Vince Gilligan and his whole Breaking Bad creative team."
• Collider places Breaking Bad at No. 1 on its list: "Breaking Bad is hands down the best show on television. Period."
• The Contra Costa Times considers Breaking Bad one of the Top 10 TV Shows of 2011, citing "a spellbinding journey to the dark side — and an explosive finale."
• Monsters and Critics considers Breaking Bad one of the Tops in Television: "Another season that left us fans doubled over from the sweep of this crazy paranoid arc of Walter, chemistry teacher turned thug."
• One of the Orlando Sentinel's favorite things is Breaking Bad because it "hit exceptional heights, and Giancarlo Esposito gave the performance of the year as an unforgettable villain."
• The Lincoln (Neb.) Journal Star honors Breaking Bad at No. 1, calling the Season 4 finale "gruesome, yet satisfying."
• Breaking Bad is on the Buffalo News' list of 2011's best TV shows.
• Breaking Bad made CinemaBlend's Top 10 Best TV Shows of 2011 list, which lauded the show for "one of the best season finales we saw all year."
• Breaking Bad is one of the five television shows Metro loved in 2011, saying simply, "Bryan Cranston is my hero."
• According to the Huffington Post, Bryan Cranston is the number one reason to own a TV: "If you don't own a TV, this one guy alone is worth the price of entry."
• The Orange County Register praises Breaking Bad's Season 4 finale's "perfect twist ending: It didn't change the direction of the show or undo a season of high drama."
• USA Today's list of the year's top 100 people puts Giancarlo Esposito at No. 16: "As the Big Bad on Breaking Bad, he was absolutely breathtaking."
• Gus' death is No. 1 on Entertainment Weekly's ranking of the best TV character deaths, describing it as a "The perfect end to a perfect season of television."
• Gus' death is one of the most gruesome, according to the Los Angeles Times, because he "really went out with a bang in the season finale."
• Gus' demise is one of the Huffington Post's most shocking TV moments this year: "An incredible moment and a Hall of Fame character exit."
• TheWrap puts Gus Fring atop its ranking of TV's most fascinating characters: "The flashback to one terrible day in Mexico also paid off with Gus exacting a brilliant revenge on his former tormentors."
• Gus Fring is the bad guy The Philadelphia Daily News will miss, calling him "evil's suave face — while he still had one — as well as a character whose backstory probably deserved its own TV series."
• MSNBC includes Gus' death among the year's most shocking TV deaths: "You had to gasp when Gus emerged from the room seemingly fine, then revealed that exactly half of his face was a melted hole."
• The Daily Beast declares Gus' death "simply stunning. We will miss Gus Fring very much."
• The Vancouver Sun considers Gus' death one of TV's best moments in 2011, as it "not only delivered one of the most gruesome death scenes ever… it also completed Walt's transformation into a ruthless baddie."
• Gus Fring and Mike both appear on TV Geek Army's list of the year's top supporting characters, noting of Gus, "The fourth season of Breaking Bad will go down in history as The Season of Gus."
• indieWIRE's The Best in Black Television 2011 list names Giancarlo Esposito Best Actor, saying he "cemented himself as one of acting's greatest and most underappreciated talents."
• The Macon Telegraph thinks Giancarlo Esposito gave the year's greatest performance: "When all is said and done, I think Esposito created one of the all-time greatest villains in the history of TV."
• MSNBC rates Gus' death as one of the most memorable TV moments this year, saying the Season 4 finale was "far from the first to end in a jaw-dropping face-off, but it was definitely the first to end in a literal face off."
• Zap2it especially enjoyed Season 4's "Salud" (Episode 10) and "Box Cutter" (Episode 1), noting, of the former, "I'll probably always think twice about drinking special reserve tequila after watching this episode."
• The Huffington Post's best TV lines of the year list includes Walt's "I am the one who knocks" from Season 4, Episode 6, "Cornered" and Gus's "Well? Get back to work" in Season 4, Episode 1, "Box Cutter." There's also a video montage with the first quote.
• TV Fanatic believes Walt is one of TV's most heroic characters, since he "took out one of the most powerful villains on television in Gustavo Fring."
• The Good Wife's showrunners recommend Breaking Bad to NPR, saying, "There's such a very dark sense of humor that keeps you laughing as things get more and more depressed and violent."
• Hollywood.com makes a case for why Bryan Cranston should win a Golden Globe next month. LAist pleads, "Please just send the award to Bryan Cranston now and get it over with."
• Technorati lists five things it expects Breaking Bad's final season to tie up.
• Screen Junkies shares five reasons to watch Breaking Bad.
• The National Post considers Vince Gilligan part of the "new breed of TV auteurs" and commends him for producing one of the year's most original productions.
• NPR interviews Breaking Bad's science adviser about how the show's writers "work to get the science right."
• Betsy Brandt tells Ology she loves shoes and is obsessed with making homemade croutons.
• Slate discusses the proliferation of divorced and separated mothers on TV, citing Skyler White as one example.
Read More