Press
Entertainment Weekly and Hollywood Reporter Name Breaking Bad Best TV Show of 2011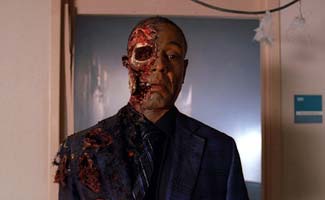 This week, Entertainment Weekly and The Hollywood Reporter place Breaking Bad at the top of their lists of the best TV shows of 2011. The series is also recognized on "best of" lists from the Associated Press, Salon, and TV Fanatic. Read on for more:
• Breaking Bad tops Entertainment Weekly's list of the Best of 2011 TV: "Just when you thought Breaking Bad could not become more tense, more witty, more elegantly shot, or more exuberantly acted, along came Season 4." (No Link.)
• EW also chose "Crawl Space" as a Favorite Episodes of 2011, lauding it because it "kept viewers in a vise grip of suspense." (No Link.)
• Vince Gilligan talks Entertainment Weekly through Gus' death scene, including the 19 takes he shot of Gus stepping out of the door: "Because it was a one-er and it had to be as close to perfection as possible, I wanted everything just the way I wanted it."
• Breaking Bad ranks first on The Hollywood Reporter's list of the year's best shows: "There are a lot of great series on this list, but if you're on the top, then you're arguably the best show on television." (No Link.)
• USA Today includes Breaking Bad on its list of 2011's best.
• NPR puts Breaking Bad at the head of its list of the year's best scripted comedies and dramas.
• The show sits atop the Pittsburgh Post-Gazette's year-end list: "Breaking Bad is that rare TV series that has never made a seriously damaging storytelling misstep."
• The Salt Lake Tribune's 2011 Top 10 TV list places Breaking Bad at No. 2, calling the show "a dangerous drama."
• Breaking Bad is No. 4 on Salon's ranking of the year's best, describing it as the "most engrossing drama on TV: mordantly funny, shockingly bloody, dazzling in its architecture, merciless in its execution."
• The Associated Press called Breaking Bad an example of TV at its best in 2011, noting the show was "bleak, suspenseful, shocking and, at times, bitterly funny."
• Digital Spy ranks Breaking Bad in its list of the year's top 25 shows: "Another year, another epic season of Breaking Bad. The show can do no wrong at the moment."
• The San Jose Mercury News includes Breaking Bad on its Hot List: "The showdown between Walter White (the superb Bryan Cranston) and drug lord Gus Fring (Giancarlo Esposito) was truly memorable."
• The Niagara Falls Review puts Breaking Bad at the top of its ranking, remarking, "Fans have known for awhile this was the best show on TV, this was the season all doubt disappeared."
• The Appleton (Wisc.) Post-Crescent considers Breaking Bad "the best drama on television, and if next year's final season stays on course, it'll be one of the best of all time."
• Yidio pronounces Breaking Bad one of the five best this year: "every single episode of this season…was as engaging as a television show can be." Yidio also thinks Giancarlo Esposito and Aaron Paul gave two of TV's most monumental performances this year.
• According to Time, one of the year's best lines was Walt's "I am the one who knocks," from Season 4, Episode 6, "Cornered."
• Entertainment Weekly's list of the year's best TV props includes Walt's .38 snub-nose revolver: "Walt's not exactly Raylan Givens [of FX's Justified], is he?"
• TV Fanatic calls Gus Fring one of the year's best villains: "both sympathetic and sinister, all business and all scary all the time."
• Extra considers the "explosive" Season 4 finale one of the best TV moments this year.
• One of TV.com's favorite TV moments of 2011 was Gale's karaoke video from "Bullet Points": "Let the bizarro rip." (Click here to watch the video.)
• The Erie Times-News asks what will become of Walter White next season: "Now that he's disposed of Gus, the drug overlord who owned him, where will he go? Jail? Six feet under?"
• Los Angeles Confidential interviews Krysten Ritter, who says her role on Breaking Bad as Jesse's girlfriend Jane "changed everything" for her.
• Entertainment Weekly highlights one of actress Mindy Kaling's tweets from earlier this year: "So where is the community chat room called 'Holy S–, Did You See Breaking Bad?!' I'm there. I post in all caps."
• TheWrap explores the issue of child endangerment on TV shows like Breaking Bad, citing Walt's poisoning of Brock.
• Need a last minute Christmas gift idea? How about a pair of Converse Chuck Taylor All Star sneakers with a Breaking Bad ("Drug Runners") design?
Read More