Press
Breaking Bad Named to More 2011 Best of Lists; Golden Globe, SAG Award Noms Cause Buzz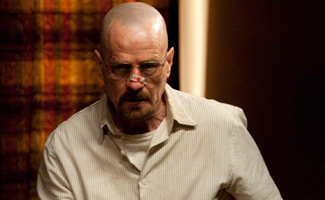 This week, numerous publications included Breaking Bad on their 2011 year-end best of lists, and the show's Golden Globe and SAG Award nominations cause widespread buzz. Plus, Aaron Paul joins P. Diddy's rat pack, and a Breaking Bad/The Simpsons mash-up hits the web. Read on for more:
• Entertainment Weekly names Breaking Bad's cast as an "Entertainer of the Year," noting the outcome of the Walter White/Gus Fring showdown "blew our minds and transcended television."
• Vince Gilligan claims a spot on Time's list of People Who Mattered because "from his mind spring figures of bone-chilling and banal evil, like Gus Fring," despite Gilligan's "courtly" demeanor.
• The Washington Post's list of 2011's best TV shows ranks Breaking Bad at No. 5: it "keeps outdoing itself, this time thanks to the unforgettable Giancarlo Esposito."
• Breaking Bad is on The Huffington Post's list of 2011's best TV: "it ended a close-to-perfect run of 2011 episodes with one of the greatest season finales of all time." Another Huffington Post best of TV list ranked Breaking Bad at No. 2, noting that "a straightened tie has never been so terrifying."
• Breaking Bad tops the Vancouver Sun's best of list, praising the show's "best season" as "a slowbuilding, season-long pressure cooker."
• Apple's iTunes Rewind selected Breaking Bad as the year's best drama.
• Breaking Bad is No. 2 on HitFix's ranking of the best returning shows: "This is a show that moves carefully, thinks through all the angles and then smacks you upside the head and down with its genius."
• TV Guide rates the cast's performance as one of 2011's best, declaring, "Fact: Breaking Bad has the best ensemble on TV." TV Guide, in its top 10 list, also says the drama didn't miss a beat during its "excruciatingly suspenseful fourth season." (No Link.)
• Rolling Stone toasts the TV season, including the Season 4 finale, and calls Breaking Bad the "hands-down best drama on TV." (No Link.)
• The American Film Institute named Breaking Bad to its top 10 TV show ranking.
• The Atlantic considers Breaking Bad one of the year's best, calling Season 4 "almost unbearably suspenseful."
• Entertainment Weekly compliments Giancarlo Esposito in its Great Performances feature for his ability to play Gus "with so much restraint." (No Link.)
• Cinema Blend's list of the year's best TV moments deems Gus' death "one of the most horrifying scenes in television this year, and one of the best."
• Giancarlo Esposito is one of TV Fanatic's choices for the Breakout Star of 2011: "I had never heard of this actor before he first appeared on Breaking Bad… after watching his chilling work on season four, I'll never forget him."
• Zimbio ranks Breaking Bad No. 2 on its list of 2011's best shows, lauding Season 4 as "a master class in storytelling."
• Walter White and Gus Fring snag two spots on MTV's top 10 list of favorite 2011 characters: "Walt is a bad man you can't help but love, even as you kinda wish he gets the horribly painful death he deserves."
• The Lincoln (Neb.) Journal Star gives cable TV a mid-season grade of B, partly because "some of the best television," including Breaking Bad, were cable shows.
• AM New York asked and 49 percent of the readers who responded said that Breaking Bad was their favorite show of the year. (No Link.)
• Head over to TV.com to vote for Breaking Bad, nominated in five categories for the Best of 2011: Overall Series, Drama Series, Dramatic Actor (Bryan Cranston), Breaking Star (Giancarlo Esposito) and Biggest Badasses (Gus Fring and Mike).
• Bryan Cranston's Golden Globe nomination in the category of lead actor in a drama series was covered by outlets including The Hollywood Reporter and USA Today.
• The Hollywood Reporter has Bryan Cranston's reaction to his Golden Globe nod: "It's terrific. I don't know when this love affair is going to end, but I imagine at some point Lady Luck will break up with me." Cranston jokes to ACESHOWBIZ: "Perhaps the reason that I haven't won a Golden Globe is, I haven't showered with them." Meanwhile, Examiner considers Bryan Cranston "a lock" in his category.
• The Huffington Post lists 10 reasons why Breaking Bad should have been nominated for a Golden Globe. Also disappointed by the drama's lack of a nomination were MTV, TV Guide, Entertainment Weekly, the New York Daily News, Canada's Postmedia News and HitFix.
• Bryan Cranston and the cast received SAG Award nods for Outstanding Performance by a Male Actor in a Drama Series and Outstanding Performance by an Ensemble in a Drama Series. The Los Angeles Times, The Hollywood Reporter, Variety, The Washington Post, TheWrap and Deadline Hollywood all covered the news.
• USA Today quotes Bryan Cranston on how award nominations can help shows without huge ratings: "It's an opportunity (to get) more people to tune in so the show can stay on the air and tell its story."
• Giancarlo Esposito reacts to the SAG Award nominations in The Hollywood Reporter: "to be part of this fantastic cast, it's thrilling." The Orlando Sentinel believes Cranston and the show will win both awards, while E! Online notes "It's hard to be a drama on TV today while Breaking Bad is airing."
• Bryan Cranston shares with HitFix that he has no idea what will happen to Walter White, though "the writers are working hard on the last 16 episodes of the show right now."
• Giancarlo Esposito tells MTV he was shocked by the way Gus died but thinks it was "absolutely perfect." He also chats with Shockya and shares that Gus will "definitely be back" perhaps "to put a final stamp on the series' ending." Esposito talks too with CNN.
• The The Huffington Post concludes that the revelation of Walt poisoning Brock forces viewers to "re-examine their opinions of Walt's irreparably altered moral compass during the show's hiatus."
• Check out Rap-Up.com for a vodka commercial that features Aaron Paul as a member of a P. Diddy Rat Pack.
• A.V. Club features a Breaking Bad/The Simpsons mash-up, with Ned Flanders as Walt and Bart as Jesse, etc.
• Seal recommends Breaking Bad to the U.K.'s Daily Mirror: "It's brilliant… you have to watch it!"
• The Wall Street Journal reports that Breaking Bad is one of the inspirations for the work of Iranian-American artist Tala Madani, who has an exhibit in Amsterdam right now.
Read More