Press
New York, The New Yorker, Stephen King Name Breaking Bad 2011's Top TV Series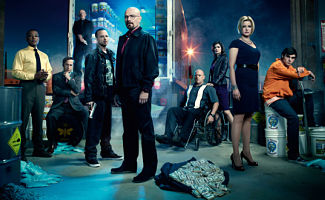 This week, New York, The New Yorker, and Stephen King name Breaking Bad 2011's top television series. Plus, Entertainment Weekly, Time, GQ, MTV News, and Canada.com also heap praise on the show, and Dean Norris lands a major film role. Read on for more:
• Breaking Bad is No. 1 on New York magazine's list of 2011's top ten TV shows, noting, "Vince Gilligan's perfectly plotted methodrama kept flying high four seasons in."
• The New Yorker also declares Breaking Bad the "best television show of the year."
• Breaking Bad is No. 1 on Stephen King's list of his 2011 pop culture favorites in Entertainment Weekly, declaring the show has "now surpassed The Sopranos" and "is an American classic."
• The casts of AMC's original series are featured in Entertainment Weekly's annual Entertainers of the Year issue (no link). Bryan Cranston and Aaron Paul represent the cast of Breaking Bad, with Cranston commenting on why Breaking Bad might not exist were it not for Mad Men's Jon Hamm.
• Time anoints Breaking Bad as one of the year's top 10 TV series: "TV's best drama knocked again; we gladly answered."
• GQ calls the men of Breaking Bad the "best ensemble cast on television right now."
• MTV News names Jesse Pinkman one of TV's 50 best characters, remarking, "Aaron Paul's Jesse Pinkman can't win, and it's heartbreaking to watch."
• Canada.com named Breaking Bad the year's top TV show, also making Giancarlo Esposito their pick for "TV Man of the Year."
• Variety reports that Dean Norris will star in the film Frozen Ground alongside Nicolas Cage and John Cusack.
• Back Stage chats with some of the show's cast members including Bryan Cranston, Aaron Paul, Anna Gunn, Dean Norris, and Betsy Brandt.
• Breaking Bad and Bryan Cranston are up for Satellite Awards in the Television Series: Drama and Actor in a Series: Drama categories, respectively.
• The Huffington Post features a video interview with Bob Odenkirk from his appearance on IFC's on-air edition of the popular radio show Comedy Death-Ray.
• Deadline Hollywood highlights the different Producers Guild and Writers Guild eligibility windows to explain why it seems like a "baffling omission" that Breaking Bad garnered no PGA nominations this year.
• Entertainment Weekly notes that Smashed, starring Aaron Paul, will be screened at the Sundance Film Festival next month.
• The Examiner has photos of Aaron Paul at the premiere of "Michael Jackson THE IMMORTAL World Tour" in Las Vegas.
• In a case of life imitating art, The Hollywood Reporter has the story of a college professor who has been accused of operating a meth lab in her home with some help from her son.
Read More