Press
Breaking Bad Nabs Two Satellite Award Nominations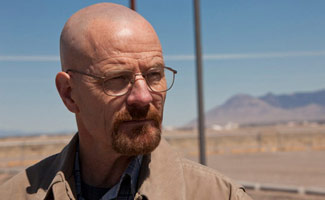 The International Press Academy announced today their nominees for the 2011 Satellite Awards, and Breaking Bad was honored with two nods: the series has been nominated in the Television Series: Drama category, and Bryan Cranston has been nominated in the Actor in a Series: Drama category.
Breaking Bad will face stiff competition for the Drama award: HBO's Boardwalk Empire and Treme, FX's Justified and Sons of Anarchy, and DirecTV/NBC's Friday Night Lights are also nominated.
In the Drama Actor category, Cranston faces off against Wendell Pierce from HBO's Treme; Timothy Olyphant from FX's Justified; Kyle Chandler from DirecTV/NBC's Friday Night Lights; Steve Buscemi from HBO's Boardwalk Empire; and William H. Macy from Showtime's Shameless.
AMC picked up a total of five Satellite Award nominations this year, with The Wallking Dead receiving a nomination and The Killing receiving two nods.
The Satellite Awards are presented by the International Press Academy (IPA), an entertainment media association with voting members worldwide who represent domestic and foreign markets via print, television, radio, blogs, and other content platforms for virtually every notable outlet.
The awards will be presented during a ceremony on Sun., Dec. 18.
Read More