Press
Breaking Bad Makes TV Guide's Hot List; Daily Mail Calls Show "Best Series on American TV"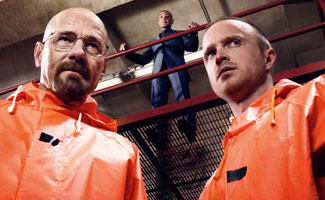 This week, TV Guide includes Breaking Bad on their Hot List, GoldDerby likes Breaking Bad's chances for a Golden Globe nomination for best drama, and Forbes, Buzzline, and the U.K.'s Daily Mail all praise the series. Read on for more:
• TV Guide includes Breaking Bad on its most recent Hot List: "Critics and fans universally declared Season 4 its best, most intense yet." (No link)
• The U.K.'s Daily Mail praises Breaking Bad, saying the show is "currently the best series on American TV."
• GoldDerby likes Breaking Bad's chances of getting a Golden Globe nomination for best drama.
• Buzzine reviews Breaking Bad: "All will agree that somehow, impossibly, it keeps getting better and better."
• Forbes is up to Season 2 in its viewing of Breaking Bad and calls the show "a truly remarkable drama."
• The Hollywood Reporter examines whether TV series should get second chances and points out that Breaking Bad — one of "the most high-profile and greatest cable series in recent memory" — enjoyed ratings gains as time went on.
• The St. Petersburg Times' discussion of the proliferation of anti-heroes on TV includes Walter White, as well as Cullen Bohannon of AMC's Hell on Wheels.
• Salon cites Gus' various surveillance feeds in their look at the theme of surveillance on prime-time TV shows: "How many times did the show's protagonist, Walter White, glare up at that surveillance camera bolted high on the wall of Gus' meth lab?"
• Madison, Wisconsin's madison.com interviews Bill Burr, who says that getting a part on Breaking Bad was "a huge moment — up there with getting to do an HBO special. That's how big that show is for me."
• Broadway World reviews the production of Next Fall featuring Betsy Brandt, who "adds great touches of humanity." The Santa Barbara Independent has a photo of Betsy on-stage.
• Deadline reports that Aaron Paul is one of four actors being considered for the role of the son of Bruce Willis' character in A Good Day To Die Hard.
• Jere Burns, who plays Jesse's Narcotics Anonymous group leader, is cheered by TV Guide for, among other things, his "impressive" performance on Breaking Bad.
• 411mania.com addresses the probable reasons why Bryan Cranston wasn't considered for the role of Commissioner Gordon in the Christopher Nolan-directed Batman films.
• According to Deadline Hollywood, Bob Odenkirk will be a consultant on a comedy presentation ordered by Comedy Central called My Mans.
Read More