Press
Cranston Talks to IFC.com; Esposito Chats with E! Online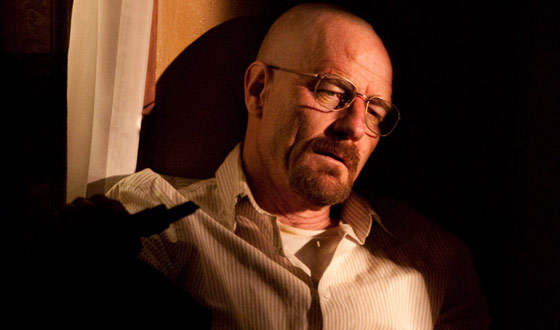 This week, Bryan Cranston and Giancarlo Esposito both speak to the press, GoldDerby looks ahead to the 2012 Golden Globe nominations, and Ology chooses their five favorite Breaking Bad supporting characters. Read on for more:
• Bryan Cranston chats with IFC.com about Breaking Bad and Malcolm in the Middle and says he'd prefer Hal (versus Walt) as a dad.
• Giancarlo Esposito speaks with E! Online about the season finale and talks about how much he'd like to direct an episode next season: "Bryan [Cranston] is keen on it and Vince would like to have it happen."
• Looking ahead to the 2012 Golden Globe nominations, GoldDerby handicaps Bryan Cranston's chances at a Best Actor nomination and Aaron Paul's chances at a Best Supporting Actor nomination.
• Ology lists its five favorite supporting characters on Breaking Bad, from Badger to Saul Goodman.
• I Am Rogue includes Breaking Bad in its list of movies and TV shows where criminal enterprises are defined by desperation.
• Cinema Blend liked Ryan's impersonation of Jesse on NBC's The Office's Halloween episode. The National Post's recap of the episode notes, "The award for best costume clearly goes to Ryan, who, unless I'm mistaken, was dressed as Aaron Paul's character from Breaking Bad. But where was the Gus 'Two Face' Fring?"
• Actor James Marsters tells the Coventry Telegraph that Bryan Cranston is "32 flavours of wonderful. He could play anything and I would pay to watch."
• The Huffington Post has a video of RJ Mitte telling the winner of a video contest sponsored by the National Disability Institute that he will be her mentor.
• Entertainment Weekly is excited that Giancarlo Esposito has joined ABC's Once Upon a Time: "Gus Fring was one of the most intriguing villains I've ever seen on television, so here's to whatever craziness he will add to Once Upon A Time."
• Variety reports that Magic Mike, a film directed by Steven Soderbergh and featuring Betsy Brandt, will be released on June 29, 2012.
Read More