What You're Saying About Hank's Search for Heisenberg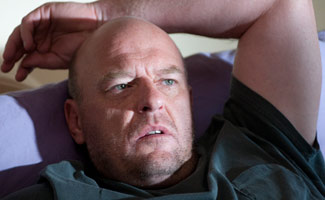 As the wait for Breaking Bad's fifth and final season begins, fans are looking ahead and wondering how Hank's long quest to find Heisenberg will play out. Here's a sampling of what you're saying:
• "Thinking maybe Hank may be getting closer and closer to Walt. He already suspects Fring, now Gus dies with a known member of the cartel, and at the same time the lab goes boom. Gus's laptop was left sitting on his desk in Hermanos, with the video feeds open." — Ruairidh
• "Hank's definitely going to piece everything together… and now he'll finally have the support and backup of the DEA. So it's all about what crazy choices Walt will make to protect himself. I'm 100% positive Hank or the DEA will find something that directly links Walt with everything that's been happening." — BB1313
• "I think Hank will find out about Walt, but only after Walt has passed away. He would never want to be caught by the DEA. So my guess is he'll die of cancer… I think season 5 will be: Hank against Heisenberg (not knowing who Heisenberg is) and close to finding out." — jzvbb
Log onto the Talk forum to join in any of these conversations or start a Breaking Bad topic of your own.
Read More