What You're Saying About Gus's Death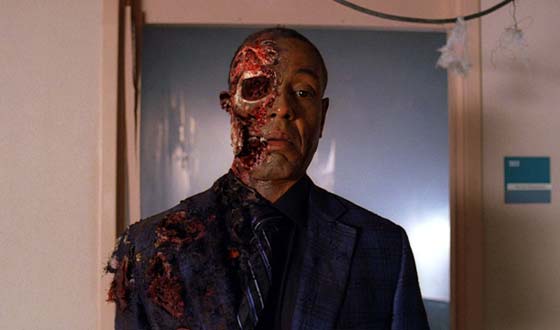 Throughout Breaking Bad Season 4, AMC will award Talk Forum commenters quoted in our weekly "What You're Saying" post with prizes (limit one per person).This week, commenters will receive Heisenberg T-shirts.
This week fans of Breaking Bad are buzzing about the climatic scene from Season 4 Episode 13, "Face Off": The shocking and gruesome death of Gus. Here's a sampling of what people are saying:
• "Yes, it was poetic in many ways… and the music… wow! Everything Gus did, was so deliberate… almost in slow motion (slower than normal, for Gus). Slowly, almost RELUCTANTLY closing his laptop… almost as in a 'farewell'… AND I noticed the colors of his suit for death, were particularly striking. It was truly beautiful. Such visual contrast with gruesome full frontal of his death scene… OMG!" — kimpin
• "Showing Gus half blown up (with one side of his body perfectly intact) is symbolic of what he presented himself to be to society, when in actuality internally he was rotten and grotesque (the blown up side)." — CeVO
• "It also reinforced Gus' personality. Prim, proper, cool, and collected, even in horrific death." — Hizenburg
Log onto the Talk forum to join in any of these conversations or start a Breaking Bad topic of your own.
Read More