What You're Saying About Brock's Illness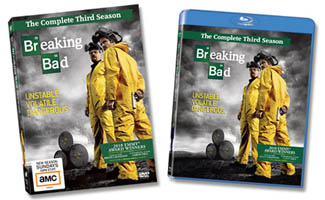 Throughout Breaking Bad Season 4, AMC will award Talk Forum commenters quoted in our weekly "What You're Saying" post with prizes (limit one per person).This week, commenters will receive Season 3 DVD sets. Next week: Heisenberg T-shirts.
Breaking Bad fans are buzzing this week about Brock's sudden illness and trip to the hospital, with commenters on the Talk Forum debating whether or not Brock was poisoned — and if so, by whom. Here's a sampling of what people are saying:
• "I just think its a BIG stretch that anyone poisoned him. If he did get into the poison at all. Someone already used the term 'red herring.'" — Handysmurf
• "This is Breaking Bad here, they wouldn't just introduce something like this and have it be a complete coincidence. Would you be satisfied with the explanation that the kid just happened to get sick on the same day Jesse randomly lost his ricin cigarette?" — tonyg567
• "Gus poisoned the kid. It was his appropriate response to Jesse not signing off on killing Walt." — Wayne
Log onto the Talk forum to join in any of these conversations or start a Breaking Bad topic of your own.
Read More