Uncategorized
Breaking Bad Series Creator Vince Gilligan Answers Viewer Questions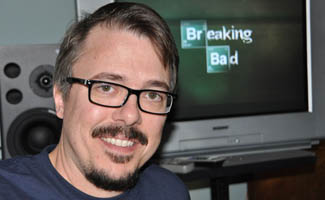 AMCtv.com offered viewers the opportunity to submit questions for Breaking Bad series creator Vince Gilligan. In Part 1 of his responses, he talks about inspirations for Breaking Bad, the secret to good casting, and why he's still waiting to read everything that's been written about the show.
Q: Do you and the Breaking Bad writing staff intentionally seek inspiration from other great crime films, or does it just evolve as scripts are written? — Alec
A: My writers and I are inspired constantly by great movies and TV shows. Not just crime movies, but westerns. We take a lot of inspiration from the "spaghetti westerns" of Sergio Leone. Once Upon a Time in the West is a particular favorite, and the first fifteen minutes of that movie is something that I have potential directors of the show watch before they start directing for us. Also, The Godfather, Parts I and II. I was thinking of The French Connection when I directed the pilot. I was emulating the look of it, or perhaps a better word is stealing from it. I love the visual sense of that movie. Film noir is a big influence: the classic noirs — I could watch The Maltese Falcon once a month, probably — as well as the Coen brothers contemporary ones as well.
Q: How do you feel about all of the attention the show is getting from critics and fans, and all of the speculation on the storyline found on numerous Internet sites? — TrueNorth
A: I just think it's absolutely wonderful that so many smart people like the show and are watching it and combing through it for the most minute details. I never believed the show would even go on the air in the first place! So the fact that we're now four years in and they're still paying this close attention to it, just astounds me. I think it's great sport to wonder about future twists and turns of one's favorite show, and I'm glad they're doing that for Breaking Bad.
I have to confess that I never look up Breaking Bad on the internet, nor myself. It's not that I don't care what people have to say, it's just that I'm very neurotic. I fear that anything bad — or good, for that matter — that I would read on the show would send me down a rabbit hole of questioning. But the way that works the best for me is to try and have as quiet a writing room as possible and get a story that pleases me and that pleases my writers. Because the seven of us — my six writers and myself — are really the first viewers of the show. If we can make ourselves happy, because we're a pretty hard to please bunch, than I feel that keeps us in good stead. Although I do keep all this stuff: I keep reams of reviews and blog entries and printouts to enjoy someday when the show is long off the air.
Q: The creativity and imagination on this show is mind-boggling. Does your creativity come from anyone in particular (family, teachers, etc.)? — William C
A: My mom was a great inspiration. In fact, you'll glimpse her in the last episode of the season — she plays Becky Simmons, Walt's next door neighbor. My mom is a very creative lady who's interested in a great many things. I remember fun stuff my brother and I would do as a kid with my mom during summer vacations. She would have very creative interesting little field trips she would take us on in the neighborhood. We'd find deer tracks and she'd bring a little gallon jug of water and a little box of Plaster of Paris, and we'd make little casts of deer tracks and stuff like that.
Later I had a wonderful art teacher in elementary school named Jackie Wall who really inspired me to make movies because she lent me her super 8 camera during summer vacations when I was 10 or 11 years old. I would make these science fiction movies — this was the era of Star Wars, when it first came out. I was trying to make my own Star Wars movies in the basement of my house, starring my little brother Patrick.
Q: It seems that each character has the perfect actor assigned to portray them. What is the secret to matching an actor to a character, and what do you look for during a screen test? — Jeff K
A: The first secret to great casting is to have great casting directors, and I have two of them in Los Angeles: Sharon Bialy and Sherry Thomas. They brought me Aaron Paul, Anna Gunn, Dean Norris and RJ Mitte. They helped me to get Bryan Cranston involved — he was actually someone I was thinking of before I first hired him — and they are also responsible for Giancarlo Esposito and Jonathan Banks being on the show. These ladies have excellent taste in casting, and it's a real skill and a talent. We also have a casting director in Albuquerque, Kira Arai, who casts typically the smaller parts in each episode, and she is equally adept at her job.
Secondly, once you cast your actors for any given role, at that point it helps to get to know the actors and write to their strengths. I think a good example of that is me getting to know Dean Norris. We cast Dean as Hank Schrader in the pilot episode, and to my mind when I was doing the pilot, Hank was never going to be that important a character. He was going to be something of a foil for Walter. But as the shooting progressed and I got to know Dean Norris, I realized that this is a very interesting guy with a lot of emotional layers to him. He has so much more substance than I ever pictured Hank having, and so a lot of his substance rubbed off on Hank and changed the way I perceived the character. And therefore Hank is a much more rich and rounded character than he otherwise might have been. I give credit to the actor for that.
Click here to read Part II of this interview with Vince Gilligan
Click here to read Part III of this interview with Vince Gilligan
Read More