Press
Vince Gilligan Wins CableFAX Best Writer Award, Talks to Irish Film & Television Network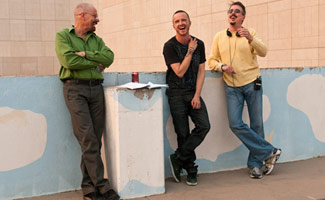 This week, Vince Gilligan won a 2011 CableFAX Program Award and spoke to the Irish Film & Television Network, and music supervisor Thomas Golubic chatted with Billboard. Plus, news about an upcoming PBS documentary about television which will include Bryan Cranston and Vince Gilligan, and The New York Times finds a blue meth connection between Breaking Bad and The Walking Dead. Read on for more:
• Vince Gilligan won the 2011 CableFAX Program Award for Best Writer in Cable against competition including Matt Weiner of AMC's Mad Men (who received an honorable mention). In addition, Breaking Bad received an honorable mention in the Best Cable Program and Best Show or Series – Drama categories, while Bryan Cranston received an honorable mention in the Best Actor in Cable category.
• The Irish Film & Television Network interviews Vince Gilligan, who talks about why Bryan Cranston doesn't need to know what's happening in the show too far in advance: "I think the way he sees it is that in our lives, our real lives, we don't know what is going to happen next week or next month and therefore we live our lives moment to moment."
• Music supervisor Thomas Golubic talks to Billboard about how music placements evolve along with a show's plot and characters and how licensing music for television has changed over the past decade.
• The Morton Report spotlights a new PBS documentary on television which will include Bryan Cranston and Vince Gilligan in the second episode, "Man of the House."
• The New York Times speculates that The Walking Dead made a sly reference to Breaking Bad in its most recent episode with some meth that was "a certain shade of blue — the same color it takes on when it is cooked by Walter White."
• The St. Louis Post-Dispatch says of the Season 4 finale, "Very good… with one of the best scenes (the tie!) ever."
• Now that Breaking Bad's season is finished, Chicagoist decides to "reminisce a bit about happier times" by posting a video of Gale singing karaoke.
• Actor Donal Logue tells western Canada's Times Colonist that anyone who knew his friend Bryan Cranston was "fully aware he's capable of the work he's done on Breaking Bad, but it's a surprise to people who only know him from Malcolm [in the Middle]."
• According to Entertainment Weekly, Aaron Paul "almost perfectly nailed Judd Nelson's voice and tone" in a live reading last week of The Breakfast Club. Entertainment Tonight marveled at what a "shockingly good Bender Breaking Bad star Aaron Paul made."
• indieWIRE's review of Batman: Year One applauds Bryan Cranston, who "does a killer job at nailing the mixture of sincerity and calculation in Jim Gordon's voice." Also, according to ComicsAlliance, he "excels as Gordon, shifting between weary and determined as circumstances demand."
• The Albany Times Union proposes Giancarlo Esposito for Sammy Davis, Jr.'s role in a purported remake of The Cannonball Run: "After seeing what he did with one of TV's all-time great villains, Gus Fring on Breaking Bad, I'd like to see what he could do with this radical change of pace."
• TV Overmind calls ABC's Once Upon a Time, which features Giancarlo Esposito, as "the best new show of the season and definitely season-pass worthy." Meanwhile, TVLine reports that Esposito will make his debut on the show in the second episode, airing Sun. Oct. 30.
• TV Guide notes that David Costabile (Gale) played the part of a judge on this week's episode of CBS' Person of Interest. Reviewing the episode, Daemon's TV was excited by Costabile's appearance, complimenting the show for "throwing in former cast members from my favorite show of all times [sic], Breaking Bad."
• Actor Philip Winchester of Cinemax's Strike Back tells Daemon's TV he'd love to guest-star on Breaking Bad, "even if it was just like one of Jesse's kind of rag tag friends."
• Model Helena Christensen says she's "a new, but very big Breaking Bad fan," according to Women's Wear Daily.
Read More