Press
Season 4 Finale Buzz Continues; Esposito Talks to New York, USA Today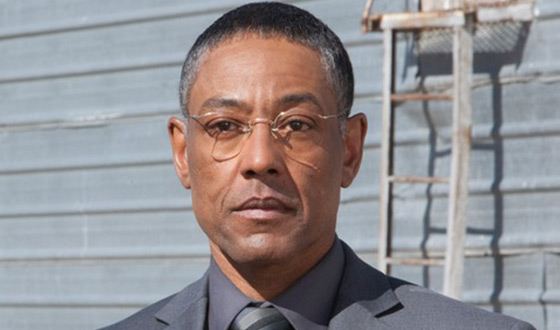 This week, Breaking Bad's Season 4 finale remains a hot topic of discussion, including Giancarlo Esposito talking to New York magazine and USA Today about (SPOILER ALERT!) his character's spectacular death. Plus, Entertainment Weekly has photos of Bryan Cranston dressed up as Hector at the Season 4 wrap party. Read on for more:
• New York magazine catches up with Giancarlo Esposito, who discusses Gus adjusting his tie right before dying: "That would be a very unconscious thing that a gentleman would do, but Gus is very meticulous, so would it be unconscious? It would probably be very conscious. He wants to make sure he goes out in a certain way." He also speaks with USA Today about Mr. Fring.
• TV Guide ranks Gus' demise last week's top moment, calling it the Most Mind-Blowing Death: "Nothing trumps everyone's favorite meth kingpin Gus Fring emerging from a bomb blast seemingly OK, affirming our belief that he is indestructible. But a slow camera turn reveals that half of his face has been blown off."
• The Wall Street Journal calls the Season 4 finale one of last week's highlights: "It's the split second is-he-or-isn't-he death of Gus that blows us away." Meanwhile, Philadelphia Magazine is "still freaked out" by the Season 4 finale.
• The Season 4 finale was the best TV show USA Today saw last week: "I love it when a show pays off, and the entire season of BB certainly did."
• TheWrap discusses being addicted to the show: "What sets Breaking Bad apart and especially this season, is that the kind of virtuoso acting and writing on display is rarely seen in entertainment in general."
• Entertainment Weekly has photos of Bryan Cranston dressed up as Hector at the Season 4 wrap party.
• Slate has a recommendation for viewers in Breaking Bad withdrawal: watch all the episodes of The X-Files written by Vince Gilligan, including an episode starring Bryan Cranston.
• Screen Rant saw footage of the Total Recall remake that included a "great scene with Breaking Bad star Bryan Cranston." io9 says watching Bryan Cranston's first appearance as Vilos Cohaagen was the "biggest thrill" of seeing the new footage. Hollywood.com reports there was much screaming from the audience when Cranston showed up on-screen.
• Bryan Cranston talks to USA Today, Blast magazine and Comic Book Resources about his role in Batman: Year One.
• USA Today interviews Bryan Cranston about Rock of Ages; during the interview, he talks about singing on-camera for the first time.
• Up and Comers reports that Aaron Paul is one of the actors reading with Bruce Willis to play the role of of John McClane's son in Die Hard 5.
• Aaron Paul will play the part of Bender (made famous by Judd Nelson) in a reading of The Breakfast Club to be directed by Jason Reitman, Entertainment Weekly reports.
• New York magazine asks readers to name their dream hosts for Saturday Night Live, asking, "Since Bryan Cranston has already hosted, how about Aaron Paul?"
• Daemon's TV reviews a recent episode of CSI:NY that featured Dean Norris, who "did a great job in his scenes, and he naturally injects a sense of seriousness and gravitas to the show that isn't always there."
• Salman Rushdie tells Israel's Haaretz that he likes "some" of what's on TV now, including Breaking Bad.
• According to BuzzSugar, Josh Groban would love to appear on Breaking Bad: "I would love to play a drug dealer, or something that would be really, really fun. I've been completely obsessed with that series."
Read More