Press
Vince Gilligan Talks Season 4 Finale; TheWrap Calls Breaking Bad "The Best TV Show Ever"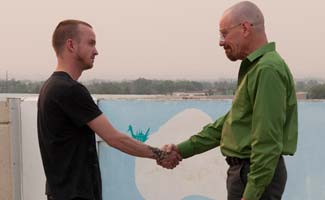 This week, Vince Gilligan talks extensively to numerous publications about Season 4 and its finale. Plus, cast members including Bryan Cranston, Aaron Paul, Giancarlo Esposito, Dean Norris, Jonathan Banks, and Betsy Brandt spoke to the press, publications including TheWrap, Variety, and the San Antonio Express-News gave the series high praise, and recaps and reviews of the Season 4 finale. Read on for more:
• Vince Gilligan tells The New York Times that Gus is dead, no matter what some viewers may think: "Some people might think that he may show up with steel rivets in the side of his head, looking like the Terminator next season. But I very much doubt that will happen." He also talks to Time, The Hollywood Reporter, AOL and HitFix.
• The A.V. Club gets Vince Gilligan to walk through each episode of Season 4: from "Box Cutter" to "Open House," from "Bullet Points" to "Problem Dog," from "Hermanos" to "Salud," and from "Crawl Space" to "Face Off."
• The Hollywood Reporter names Vince Gilligan one of its Top 50 Power Showrunners, noting that he "can expect more Emmys (stars Bryan Cranston and Aaron Paul have won three and one, respectively) and a sizzling series finale slated presumably for 2012."
• New York interviews Bryan Cranston, who says of the change in Walt's personality, "We are not out to have people like him. We are out to have people understand him, relate to him, and watch his disintegration." He also shares with IGN that Walt didn't poison Brock lightly: "He anguished over it. He showed genuine relief when Jesse told him the child was going to be okay. That wasn't Walt acting." Cranston chats too with MTV about Breaking Bad as well as about Batman: Year One.
• Bryan Cranston was a guest last week on Late Show with David Letterman, Marc Maron's podcast and ESPN's Podkast.
• Aaron Paul tells the New York Post that his Emmy win has opened doors: "I've started to sit down and talk to and have meetings with a lot of people that I've looked up to my entire life."
• Giancarlo Esposito tells USA Today what he liked about Gus: "I loved the cordial nature of the character. You never knew what this cat was capable of." He speaks to Reuters about Gus and the show's shades of gray; to Variety about Gus' death ("I just wanted to die a good death. I wanted it for Gus. I certainly embraced his death and really loved the way Vince did it") (No Link); to The Hollywood Reporter about the show's inspirational writing; to the A.V. Club about what Gus saw in Jesse; to AOL about one of his favorite Season 4 moments; and to the Los Angeles Times about sympathizing with Gus.
• Macon.com says Season 4 is "arguably the series' best season since its first, thanks in part to the outstanding work of Giancarlo Esposito as Gus, one of TV's great villains."
• If you're missing Gus, TV Guide notes that you can catch Giancarlo Esposito on ABC's new show, Once Upon a Time.
• Looking for a Halloween costume idea? You might want to consider dressing up as Gustavo Fring, complete with New York's Gus Fring mask.
• The A.V. Club talks to Dean Norris in a wide-ranging interview that touches on how tough it was to play a bedridden character in the first half of Season 4.
• The A.V. Club also talks to Jonathan Banks, who calls Breaking Bad "One of the best jobs I've ever had."
• Betsy Brandt tells LAist she'd like a scene with Aaron Paul: "He could get community service for dealing or something, and I could get community service for my stealing. That would be fun! But now Aaron Paul's character is way past community service."
• TheWrap praises Breaking Bad, noting the "show's fourth season has cemented its status as one of the best TV dramas ever, and, we might even argue, the best TV show ever, period."
• Variety believes that the "sheer force of reaction online to the finale of Bad — almost all of it gasping for praise — only reaffirms the growth of Vince Gilligan's master creation into one of the top shows of the century." (No Link) It also lauds the Season 4 finale for "boldly hitting the 'reset' button, with little road map for what comes next. Where is the show going to begin next season? Happily, I have absolutely no idea." (No Link)
• The San Antonio Express-News says the series "goes in my television trifecta box right along with The Sopranos and The Wire. Seriously, it is that good."
• Breaking Bad had its highest-rated season yet. Entertainment Weekly reports that the Season 4 finale drew 1.9 million viewers, adding a million more during the encore presentations, which means the show "continues to buck the usual downward trend of aging serialized dramas by growing its audience." According to The Hollywood Reporter, it was also ranked the most engaging series on television (as measured by program engagement and ad effectiveness).
• Newsday believes that, in Season 4, Jesse became "the everyman of Breaking Bad, and now, its hero."
• If you want to know how Walt could have poisoned Brock, then check out /film's theory.
• BlackBook has compiled the cold opens from each season "for the true fanatic."
• Screen Junkies compiles a list of Breaking Bad's goriest deaths (not including the Season 4 finale), asking, "How do these get past the censors?"
• Gather.com presents the four characters most likely to kill Walt next season, with Hank and the DEA at the top of the list.
• The Boston Globe theorizes that shows like Breaking Bad reflect a nation seeking its moral compass.
• Macleans discusses Breaking Bad's idea of "taking a typical TV anti-hero and turning him into a full-out villain."
• New York magazine's recap of Community's third episode this season mentions Troy's line, "I need to catch up on Breaking Bad, so …"
• io9 reviews Batman: Year One and believes the filmmakers made "a brilliant move by casting Breaking Bad's Bryan Cranston as James Gordon. That choice, more than anything else, makes this version of Year One a huge success."
• Billboard reports on Bob Odenkirk's role in announcing the release of The Black Keys' new album: He plays a "low-life used car salesman," a departure from his role as a low-life lawyer.
• For recaps and reviews of Season 4, Episode 13, "Face Off," check out AOL TV, A.V. Club, BuzzFocus, CNN, Collider, complex.com, Crave Online, Daemon's TV, Entertainment Weekly, HitFix, The Hollywood Reporter, IGN, Los Angeles Times, New York, NPR, Paste, Poptimal, Salon, Slate, Star-Ledger, Time, TV.com, TV Fanatic and The Wall Street Journal.
Read More