Press
Vince Gilligan Talks About the Season 4 Finale; EW Gives the Season 4 Finale an A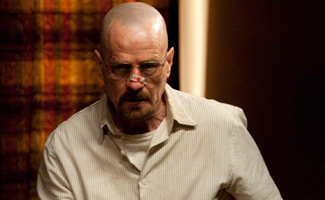 This week, Vince Gilligan talks to TVLine and the Pasadena Star-News about the Season 4 finale, Entertainment Weekly previews the Season 4 finale and gives it an A, the St. Louis Post-Dispatch calls Bryan Cranston's portrayal of Walt one of the greatest performances in TV history, and recaps and reviews of Season 4 Episode 12. Read on for more:
• Vince Gilligan tells TVLine that viewers will have to wait until the Season 4 finale to find out how Brock got sick "but your questions will be answered." Asked about the finale by the Pasadena Star-News, Gilligan will only compare Walt and Gus to the chess match between Boris Spassky and Bobby Fischer: "If I ruined anything for you, you'd be bummed."
• Entertainment Weekly gives the Season 4 finale an A and previews it as "remarkable not only for its tension and surprises but also for the way Bad somehow manages to find moments of madcap absurdity in the midst of its dangerous chaos." (No Link)
• After watching Episode 11, "Crawl Space," TV Guide asks, "Can we just hand next year's Emmy to Bryan Cranston now?"
• TV Guide assesses the show's Emmy chances: "The races will be even more tight and meaningful with Breaking Bad back in the race after sitting this year out."
• In a similar vein, the St. Louis Post-Dispatch says, "I think Bryan Cranston's performance as Walter White will go down as one of the greatest in TV history."
• One of Variety's random thoughts: "Not since the peak of Lost can I recall a show that delivered such consistent edge-of-your-seat excitement over a period of weeks as AMC's Breaking Bad has in its second half of 2011. Every episode has my jaw dropping." (No Link)
• The Seattle Times describes the show as "pulpy without being silly, dark without ever forgetting its sense of humor and incredibly well acted."
• PhillyBurbs.com says of Breaking Bad, "[it's] been a long time since I've found a TV show so addictive that I couldn't wait an extra 24 hours to watch it."
• A.V. Club speaks to Jonathan Banks, who discusses his career and Breaking Bad: "I do like the relationship that's developed between Jesse and Mike. A lot. You know, I'm a sentimental sap anyway, but I just like the comfort of the damned."
• The Denver Post writes about the wealth of good TV on Sunday nights, including Breaking Bad (which "remains unbelievably downbeat — and addictive").
• IAMROGUE.COM chooses Bryan Cranston as its "Rogue of the Week," citing "his smart selection of unshowy supporting roles since breaking big on AMC's Breaking Bad."
• Gawker thinks Anna Gunn and Betsy Brandt should be making more money, even if they didn't make it onto the Forbes list of the highest-paid actresses on television.
• The Plain Dealer celebrates the 50th anniversary of The Dick Van Dyke Show and determines that, without it, quality dramas such as Breaking Bad would not exist.
• The Tri-State Defender talks to Lavell Crawford (Huell), who mentions Breaking Bad.
• Heisenberg for Halloween? The New York Post suggests "all you need to pull off that look is a porkpie hat, goatee, glasses and a bald cap."
• More celebrity endorsements of Breaking Bad: Amy Poehler tells the New Yorker it's one of her favorite shows, while Jonathan Franzen says it's his favorite current series, according to BBC Worldwide. Actress Aisha Tyler tells Entertainment Weekly that it's "a show that really engenders conflicted emotions, and it's wonderful to feel conflicted by television." (No Link)
• AMC/Sundance Channel has the international rights to the first four seasons of Breaking Bad and will air the drama in Asia, according to The Hollywood Reporter. TBI adds that the show will be broadcast in 2012.
• Aaron Paul is set to star in an independent film called Decoding Annie Parker, according to Collider.com, which comments, "It's interesting that Paul continues to take smaller, indie projects as his hiatus films as opposed to his equally-talented Breaking Bad co-star Bryan Cranston."
• Box Office Mojo reports that Argo, which includes Bryan Cranston in its cast, will open on Sept. 14, 2012. Collider.com thinks the timing could help its Oscar chances: "Argo may get a boost due to its political undertones and being released only a couple months before the 2012 Presidential Election."
• Playbill reports that Anna Gunn will star in the title role of Alan Alda's play, Radiance: The Passion of Marie Curie; the play is set to open in Los Angeles on Nov. 9. Variety has the news too and adds that Betsy Brandt will co-star in a play titled Next Fall, also in Los Angeles, with a premiere date of Nov. 2. (No Link)
• For recaps and reviews of Season 4 Episode 12, "End Times," check out AOL TV, A.V. Club, BuzzFocus, CNN, Collider, Crave Online, Daemon's TV, Entertainment Weekly, HitFix, The Hollywood Reporter, IGN, Los Angeles Times, New York, Paste, Poptimal, Salon, Slate, Star-Ledger, Time, TV.com, TV Fanatic and The Wall Street Journal.
Read More