Press
Breaking Bad Breaks Record With Season 4 Ratings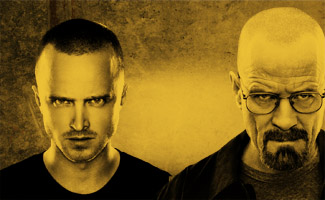 Breaking Bad, which premiered its Season 4 Finale last night, ranks as the most engaging series on television according to Nielsen's IAG, which measures program engagement and ad effectiveness.
AMC premiered the Season 4 Finale of Breaking Bad to record rating results. Season four reigns as the series' highest rated season to date, growing 24% over season three for Adults 18-49, the most for any drama series in basic cable history. Last night's episode scored a 1.4 household rating, attracting 1.9 million viewers. Across the evening, all three airings (10PM, 11PM, 1AM) delivered 2.9 million viewers and 1.8 million adults 18-49. In August, AMC announced the final 16 episodes to conclude Breaking Bad.
AMC also experienced its best season ever for the 2010-11 season in sales prime delivery of Adults 18-49 and Adults 25-54 increasing +9% and +8% respectively vs. last season.
Ratings Highlights include:
All three airings delivered 2.9 million viewers and 1.8 million adults 18-49
Season 4 averaged 1.9 million viewers, a 23% increase vs. Season 3
Breaking Bad Season 4 also averaged over 1 million adults 18-49 and Adults 25-54, +24%/+21% vs. Season 3
Breaking Bad Season 4 garnered its strongest increases among younger viewers, growing its Adult 18-34 audience +42% over last season.
*The Nielsen Company. Live SD Data. ( 01/01/01 to date) M-Su 8p-11p, General Drama, Ad-Supported Cable. Entire Season 4 vs. Season 3 A 18-49 (000) growth. Full Series Original Premiere Episodes Only.
**Nielsen TV Brand Effect (IAG), 3Q11 (7/1/11 – 9/30/11), A18-49, A25-54, premiere episodes. All measured primetime broadcast and cable programs included.
*** The Nielsen Company. Live SD Data. AMC 00/01 – 10/11 Season (9/27/10-9/25/11) Sales Prime (M-Su 6p-1a)
"Bad is so good. Thank you Vince Gilligan; what a season and what a finale. Few entertainment experiences move audiences the way Breaking Bad does, consistently. The audience growth from season three to season four is unprecedented for any drama in basic cable history and now it has been named the most engaging program across all of television by Nielsen. We can't wait to share with fans what's next in the White house," said Charlie Collier, AMC's president.
Over four seasons, Breaking Bad has been heralded as one of the best TV dramas on television. New York Magazine said, "There's no other show like it." Newsweek said, "Breaking Bad is as addictive as the meth cooked by its cancer-stricken lead character, and just as insidious. It's also TV's finest hour." People said, "The show has evolved into a modern underworld Western – there's nothing else like it." Variety said, "Either appropriately or ironically for a show about meth cookers, Bad is simply one of TV's great addictions."
Breaking Bad stars Emmy® Award-winner Bryan Cranston as Walter White; Emmy® Award-winner Aaron Paul as Jesse Pinkman; Anna Gunn as Skyler White; Dean Norris as Hank Schrader; Betsy Brandt as Marie Schrader; RJ Mitte as Walter, Jr; Bob Odenkirk as Saul Goodman; Giancarlo Esposito as Gus Fring; and Jonathan Banks as Mike. "Breaking Bad" is filmed on location in Albuquerque, New Mexico.
The series first premiered on AMC in January 2008 and follows protagonist Walter White, a milquetoast high school chemistry teacher who lives in New Mexico with his wife, teenage son who has cerebral palsy and a new baby girl. White is diagnosed with Stage III cancer and given a prognosis of two years left to live. With a new sense of fearlessness based on his medical prognosis, and a desire to gain financial security for his family, White chooses to enter a dangerous world of drugs and crime and ascends to power in this world. The series explores how a fatal diagnosis such as White's releases a typical man from the daily concerns and constraints of normal society and follows his transformation from mild-mannered family man to a kingpin of the drug trade.
Breaking Bad has received sixteen Emmy® Award nominations in the following categories: "Outstanding Drama Series" (2009, 2010); "Outstanding Lead Actor in a Drama Series" for Bryan Cranston (2008, 2009, 2010); "Outstanding Supporting Actor" for Aaron Paul (2009, 2010); "Outstanding Directing for a Drama Series" for Vince Gilligan (2008) and Michelle MacLaren (2010); "Outstanding Cinematography for a one-hour series" for John Toll (2008) and Michael Slovis (2009, 2010); "Outstanding Sound Editing for a Series;" "Outstanding Single Picture Camera Editing for a Drama Series" for Lynne Willingham (2008, 2009) and Skip McDonald (2010); with six wins overall for Cranston (2008, 2009, 2010); Paul (2010); and Willingham (2008, 2009).
Breaking Bad is produced by High Bridge Productions, Inc. and Gran Via Productions in association with Sony Pictures Television for AMC. Executive Producers are Vince Gilligan, Mark Johnson, and Michelle MacLaren; Co-Executive Producers Melissa Bernstein and Sam Catlin; Supervising Producers Peter Gould, George Mastras, and Tom Schnauz; Producers Moira Walley-Beckett, Bryan Cranston, and Diane Mercer; Produced By Stewart A. Lyons; Associate Producer Andrew Ortner, Staff Writer Gennifer Hutchison; and Director of Photography Michael Slovis.
Read More