What You're Saying About Jesse's Recovery Group Speech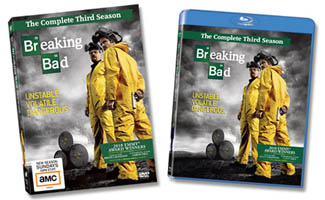 Throughout Breaking Bad Season 4, AMC will award Talk Forum commenters quoted in our weekly "What You're Saying" post with prizes (limit one per person).This week, commenters will receive Season 3 DVD sets. Next week: Heisenberg T-shirts.
This week, Breaking Bad fans are buzzing about Jesse's "problem dog" speech during his recovery group meeting (seen in Season 4 Episode 8, "Problem Dog"). Here's a sampling of what people are saying:
• "I really liked Jesse's breakdown in the recovery group circle. It was an intense scene. How he spat that in the face of everybody. Hell, yeah! One of the deepest moments of that whole show" — Illusionaire
• "Brilliant scene. Almost moved me to tears." — James82
• "Jesse has a heart and a conscience so I don't know how it will turn up in the end — him trying to be some cold stone killer." — brokebad
Log onto the Talk forum to join a conversation or start a Breaking Bad topic of your own.
Read More