What You're Saying About Episode 11's Final Moments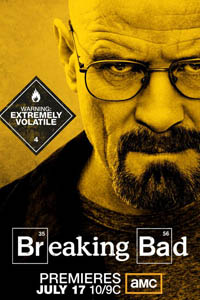 Throughout Breaking Bad Season 4, AMC will award Talk Forum commenters quoted in our weekly "What You're Saying" post with prizes (limit one per person).This week, commenters will receive Season 4 posters. Next week: Season 3 DVD sets.
The final minutes of Season 4 Episode 11, "Crawl Space" left Breaking Bad fans breathless and emotional — and eager to discuss their experience in the Breaking Bad Talk forum. Here's a sampling of what they had to say:
• "I just had to sign up and say how amazing the closing scene was for last night's episode. The camera work, Cranston's cackling, the phone call. I'm pretty sure I didn't breathe for two minutes! Incredible." — Be W
• "That ending was sublime. it was a perfect culmination of acting, music, art direction, and script — I was in awe." — mauricia
• "I felt an outpouring of emotion during those final two minutes. I didn't know if I was going to cry or what was going to happen. Everything from Walter's maniacal laughter to the look on Skyler's face to Marie's panicked voice on the answering machine to the music in the background… I've never been that emotionally affected by two minutes of television in my life!" — James3.0
Log onto the Talk forum to join in any of these conversations or start a Breaking Bad topic of your own.
Read More