Chat Online While Watching Season 4 Episode 9 On-Air This Sunday Night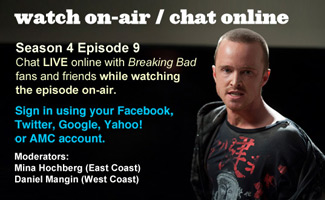 Throughout Season 4, AMC viewers have been participating in the weekly Breaking Bad Watch On-Air / Chat Online event, which allows fans to chat LIVE online with other viewers in real time while watching the latest episode on-air on AMC.
Want to join the conversation? Then log on to AMCtv.com this Sunday night and leave your comments in the open thread for Season 4 Episode 9, "Bug" while the episode airs on AMC. The East Coast chat begins at 10PM ET | 9C, and the West Coast chat begins at 10PM PT.
Click here to join this Sunday's Watch On-Air / Chat Online event
Read More