Breaking Bad Season 4 Episode 10, "Salud" – Online Extras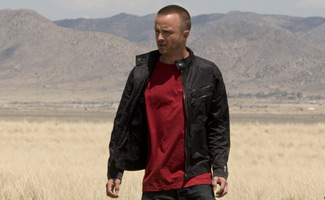 This week, Ted resisted using his "inheritance" to pay his back taxes, Jesse proved he ability to run a cook by himself, and Gus wiped out Don Eladio and his Cartel capos. You can learn more about these developments by checking out the online extras for Episode 10, "Salud":
• An "Inside Breaking Bad" video that takes you behind the scenes of Episode 10
• Ten production stills of Episode 10, plus two sneak peek photos of next week's episode
• A video of Episode 10's most talked-about scene UPDATE: This video is no longer available.
• An online trivia quiz on what happened in this episode
• An open thread for this episode in the Breaking Bad Talk forum
• Listen to the Breaking Bad Insider Podcast for this episode with guests Aaron Paul (Jesse Pinkman), Bob Odenkirk (Saul Goodman), Steven Bauer (Don Eladio), creator Vince Gilligan, writer Genny Hutchison, director Michelle MacLaren, and editor Kelley Dixon. (Then leave a question for Breaking Bad's creative team in the podcast comments section.)
• A sneak peek video from Episode 11, "Crawl Space." UPDATE: This video is no longer available.
Also worth your attention:
• Gale Boetticher's Interactive Case File
• "The Cost of Doing Business" Graphic Novel Game (Also available for iPad and Android tablets)
Read More