Press
Orlando Sentinel Calls Show One of Best of All Time; Gilligan Named A Top TV Showrunner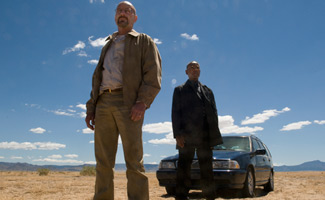 This week, the Orlando Sentinel called Breaking Bad one of the best TV series of all time, and Vince Gilligan made The Hollywood Reporter's list of TV's top showrunners. Plus, Bryan Cranston talks to the Vancouver Free Press and the Irish Times, Aaron Paul talks to the Sydney Morning Herald, and recaps and reviews of Season 4 Episode 11, "Crawl Space." Read on for more:
• The Orlando Sentinel deems Breaking Bad "one of the best [TV series] of all time" and "the most arresting program this summer."
• Vince Gilligan is included on The Hollywood Reporter's list of TV's top showrunners and shares that his top TV moment was either the "series finale of M*A*S*H in 1983 or Neil Armstrong taking the first steps on the moon in July 1969." In the same feature, Alan Ball says that Hank fending off the Cousins last season "made me get off the couch and actually cry out."
• Bryan Cranston tells the Vancouver Free Press that he doesn't like to be typecast and jokes, "I won't be looking at scripts about a teacher who becomes a drug dealer for a while." He also talks to the Irish Times, which calls him "Hollywood's most keenly sought after pentagenarian." And he speaks with the Toronto Sun about another of his movies, Argo.
• Aaron Paul characterizes the relationship between Walt and Jesse for the Sydney Morning Herald: "Walt's done a lot of really horrible things to Jesse and their relationship is a tug-of-war struggle but also compassionate and a father-son relationship."
• Ology features videos of Aaron Paul, Anna Gunn, Dean Norris and Betsy Brandt auditioning for Breaking Bad, pointing out that Paul is "the obvious choice."
• Discussing Episode 11, "Crawl Space," TV Guide marvels, "Somehow AMC's brilliant Breaking Bad just keeps upping the intensity with each episode."
• TV Guide includes Gus' poisoning of Don Eladio and his crew in Episode 10, "Salud" on its list of TV's best moments last week and calls it the "Coldest Revenge." It also trumpets the episode's ending as the cliffhanger of the week: "What a season." After watching the same episode, USA Today writes, "Holy surprise ending! These characters continue to awe and frighten me. And I like it."
• TV Guide predicts Breaking Bad will do well at next year's Emmys, given "the current strength of this remarkable season."
• TV.com notes the Breaking Bad shout-out in the Community season premiere.
• Boston native Bill Burr, who's appeared in two Season 4 episodes, tells the Boston Herald that the "writing on [Breaking Bad] is of ridiculously high quality, so if you know your lines, you're going to come off looking good. It's like the Patriots let you go out for a pass and you gain 60 yards. That's the feeling." LAist gives kudos to Burr for his Episode 11 cameo and notes that the show "continues to accelerate towards a cliff where it doesn't seem possible that anyone will survive the drop."
• Reuters reports on a Gay & Lesbian Alliance Against Defamation study, noting that RJ Mitte's character with cerebral palsy is one of the few characters currently on TV with a disability.
• Gothamist reports that Vinnie's Pizza in Williamsburg, Brooklyn, recently featured "Bacon Bad" and "meth-ham-feta-bean" pizza specials, complete with signage sporting a drawing of Walt.
• According to the New York Times, screenwriter Dan Fogelman is a fan: "The guy who plays the bad guy, Gus, gives me nightmares and makes me scared to eat chicken."
• Actor Bruce Campbell tells the Detroit Free Press that TV is more exciting now than the movies: "People have seen so much watered-down stuff on television for so long that when you watch a show like Breaking Bad, wow — what a breath of fresh air."
• You can check out Bryan Cranston in a new asthma awareness public service announcement, according to Examiner.com.
• Dean Norris will guest-star on The Mentalist later this season, playing the head of a narcotics task force, according to Zap2it.
• Betsy Brandt has been cast in Steven Soderbergh's Magic Mike, according to The Hollywood Reporter. Playbill reports that Brandt is in the cast of Next Fall, a play that will make its West Coast premiere in November in Los Angeles.
• You'll find Vince Gilligan at next month's "Writing for TV Drama" event in Galway, Ireland, the Irish Film and Television Network reports.
• Anna Gunn stars in a film called Little Red Wagon that will open the 2011 Heartland Film Festival in Indianapolis next month, Examiner.com says.
• For recaps and reviews of Season 4 Episode 11, "Crawl Space," check out AOL TV, A.V. Club, BuzzFocus.com, CNN, Collider.com, Crave Online, Daemon's TV, Entertainment Weekly, Examiner.com, HitFix, The Hollywood Reporter, IGN, Los Angeles Times, New York, Paste, Salon, Slate, Star-Ledger, Time, TV.com and TV Fanatic.
Read More