Press
NPR Chats With Gilligan, Paul; TV Guide Cheers Bauer; Orlando Sentinel Interviews Esposito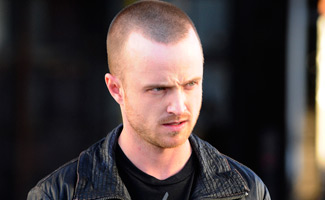 This week, both Vince Gilligan and Aaron Paul sit down with NPR, and TV Guide cheers Steven Bauer for his memorable turn as Don Eladio. Plus, the Orlando Sentinel talks to Giancarlo Esposito, and recaps and reviews of Season 4 Episode 10, "Salud." Read on for more:
• Vince Gilligan sits down with NPR and discusses, among other things, Walt's evolution: "How much darker can Walt get? Is his journey complete — his journey along that arc from good guy to bad guy? At this point, it's a tricky thing to answer."
• Aaron Paul is also interviewed by NPR and talks about how he was afraid Jesse would die in Seasons 2 and 3: "I thought that Jesse could be a goner at any moment because there's many things that this character could screw up on, and he could definitely meet his deathbed at any moment."
• TV Guide cheers Steven Bauer for "bringing his professional life of crime to Breaking Bad," where he had a memorable turn as Don Eladio.
• The Orlando Sentinel interviews Giancarlo Esposito about his acting and his social activism.
• TV Guide thinks Season 4 has been so "compelling I've sometimes found it hard to focus on this year's Emmy field, because it feels so incomplete without this show and these players."
• Episode 10, "Salud" was TV Guide's "top non-Emmy pick" last weekend, calling it a "thrillingly pivotal episode."
• TV Guide includes Walt and Jesse's brawl at the end of Episode 9, "Bug," in its top moments of last week: "There's blood and broken furniture, but none of the damage is as great as what's done to their formerly productive relationship."
• The Good Wife's Archie Panjabi tells the Independent she's "found time to bury myself in AMC's Breaking Bad. Bryan Cranston is absolutely brilliant in his role."
• Breaking Bad wasn't up for any Emmys, but Entertainment Weekly calls Aaron Paul's cameo in The Office skit "killer" and the Washington Post enjoyed the skit because "it embraced the oddest cross-section of people," including Paul. New York magazine thinks the skit "had some brilliant moments, namely Breaking Bad's Jesse Pinkman showing up to bring Creed his crystal meth: whoever thought of that knows both shows extremely well."
• In an Inside Pulse featurette on Bryan Cranston in Drive, it's revealed that the movie's director, Nicolas Winding Refn, wanted to cast Cranston because he's a fan of Breaking Bad.
• HitFix interviews Bryan Cranston about Drive, in theaters now, as well as about Argo, the movie he's currently filming.
• Cranston spoke to Collider.com about his various films and compares the end of Breaking Bad to dropping his daughter off at college.
• Variety reports that Aaron Paul is in talks to star in a film called Smash, which is loosely based on Blake Edwards' Days of Wine and Roses.
• The Boston Herald reports that Certainty, a movie starring Giancarlo Esposito, opened the Boston Film Festival.
• TVLine reports that Dean Norris will appear in an episode of Castle this season, playing a hostage negotiator.
• For recaps and reviews of Season 4, Episode 10, "Salud," check out AOL TV, A.V. Club, BuzzFocus, CNN, Collider, Crave Online, Daemon's TV, Entertainment Weekly, HitFix, The Hollywood Reporter, IGN, Los Angeles Times, New York, Paste, Salon, Slate, Star-Ledger, Time, TV.com, TV Fanatic and The Wall Street Journal.
Read More