Press
Cranston Praised By New York Times, Featured On Cover Of Hollywood Reporter Emmy Issue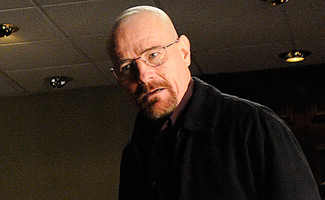 This week, Bryan Cranston is praised in two separate New York Times articles and is featured on the cover of The Hollywood Reporter's 2011 Emmy Issue, Giancarlo Esposito talks to the New York Post, Vince Gilligan reveals his dream television gig to Newsweek, and recaps, reviews and ratings for Season 4 Episode 9, "Bug." Read on for more:
• The New York Times includes Bryan Cranston in its photo gallery of "actors who turn television into art," complimenting him for his ability to play the part of Walter White after being known for so long as the dad on Malcolm in the Middle.
• Bryan Cranston is mentioned in a New York Times article on character actors: "Beautiful sad sacks like Paul Giamatti, Bryan Cranston and Steve Buscemi are running away with some of the best roles and lines going."
• Bryan Cranston is featured on one of The Hollywood Reporter's four 2011 Emmy Issue covers because of his dominance of TV's 'aughts decade. The publication observes that the three-time Emmy winner's "out-of-nowhere lead drama actor win for AMC's Breaking Bad in 2008 broke every rule of expectation."
• Giancarlo Esposito talks to the New York Post about Gus: "What I love about this character is that you're starting to see where this guy comes from — how he's cold and calculating and smart… but you understand why he's so in control."
• Gus' backstory ("Best Origin Story") lands at No. 7 on TV Guide's list of the week's top moments. TV.com's highlights of the week include Giancarlo Esposito's work in Season 4 Episode 8, "Hermanos," where the "perpetually underrated character actor… is poised to become one of the most celebrated actors alive. Better clear some space on your mantel, guy!" The Boston Globe chimes in that Esposito "has been outrageously good all season long as Gus."
• Rolling Stone says that once Giancarlo Esposito showed up on Breaking Bad as Gus, "the show officially came into its own as the most stomach-wrenching crime drama of our time." (No Link)
• Vince Gilligan revealed to Newsweek that his dream TV gig is SpongeBob SquarePants, which he calls "a very well-written and charming show. That's one I would be proud to say I worked on." (No Link)
• Breaking Bad is No. 4 on the Orange County Register's top 10 list of what to watch this week.
• CultureMob instituted the first installment of the Walter White Murder Victim Power Rankings where they track who's most likely to die because of Walt. The second installment centers on Episode 9, "Bug": "Some of these characters are just begging for Walter White to put them in a barrel."
• Grantland ranks Walt at No. 1 on its weekly list of the Powerless Rankings: "The winner and still champion is the flailingly ticking time bomb that is Walter White."
• Southern California's KPCC interviews Dean Norris, who talks about how Hank has changed since Season 1: "It's been a lovely transition for an actor to go from comedy to the most intense stuff you can do."
• Steven Bauer (Don Eladio) tells Twitch he feels "fortunate" to be involved with Breaking Bad.
• Variety examines the trend of showrunners staying on to shepherd their series from beginning to end, noting that Vince Gilligan (and Mad Men's Matthew Weiner) have negotiated deals "allowing them to see their creations through to the conclusion." (No Link)
• The Plain Dealer discusses how the TV landscape post-9/11 has become "progressively grimmer in tone," citing Breaking Bad as an example.
• Reuters says broadcast TV viewership has fallen because of "increasing competition from cable TV, with its critical and popular hits such as Mad Men (and) Breaking Bad."
• Fringe's Lance Reddick tells the Miami Herald that his favorite show is Breaking Bad because it's "the best writing on cable right now."
• USA Today reports that Netflix is now streaming Seasons 1-3 of Breaking Bad "so you can catch up on what you've missed. (And you've missed a lot.)"
• Bryan Cranston, representing his film Drive, appeared at the Toronto Film Festival last weekend. While there, he talked to Moviefone and nowtoronto.com about his new movie.
• According to Reuters, Bryan Cranston will present at the Emmy Awards this weekend.
• TV Overmind picks ABC's Once Upon a Time, which features Giancarlo Esposito in a supporting role, as 2011's best new show.
• For recaps, reviews, and ratings for Season 4 Episode 9, "Bug," check out AOL TV, A.V. Club, BuzzFocus, CNN, Collider, Crave Online, Daemon's TV, Entertainment Weekly, Examiner.com, HitFix, The Hollywood Reporter, IGN, Los Angeles Times, New York, Paste, Salon, Slate, Star-Ledger, Time, TV.com, TV By The Numbers, TV Fanatic and The Wall Street Journal.
Read More