Press
Aaron Paul Talks to E!; Oakland Tribune Calls Breaking Bad "Excellent TV"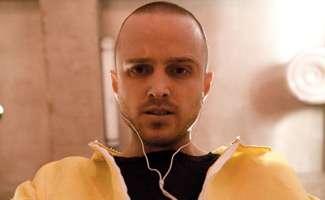 This week, Aaron Paul talks to E! about what's still to come in season 4; outlets including the Oakland Tribune, Time, Boston Globe, and TV Guide praised the series; and there were recaps and reviews galore for Season 4 Episode 7, "Problem Dog." Read on for more:
• Aaron Paul tells E! that the remainder of Season 4 is "about to get really, really, really crazy," with some blood and explosions involved.
• The Oakland Tribune calls Breaking Bad "excellent TV," saying the show is "so well-written, so beautifully photographed — taking full advantage of New Mexico's palette — and so well-acted, it's irresistible."
• Time is "loving" season 4 of Breaking Bad, saying the show "has unflinchingly built on the end of the last season and turned up the pressure on its characters."
• The Boston Globe compliments the show's acting: "Walt and Jesse are different people than they were at the start of the show, and Bryan Cranston and Aaron Paul have dramatized those shifts really well. Anna Gunn as Skyler, too, is completely different." (no link)
• TV Guide calls out Walt's "instant classic quote" from Season 4 Episode 6 ("I am not in danger, Skyler, I am the danger. A guy opens his door and gets shot, you think that of me? No, I am the one who knocks.") as one of the top TV moments of the week. TV Guide also included Season 4 Episode 7, "Problem Dog," in their weekend picks, calling the show "absolutely gripping."
• The Desert Sun calls Breaking Bad "the best show on television" in an article extolling the pleasures of summer TV viewing.
• The Hollywood Reporter note that Breaking Bad is "continuing to snap up viewers and critical praise this summer" in their look at summer TV's winners and losers.
• The Los Angeles Times is calling for Bryan Cranston to present lead drama actor Emmy, noting that "it'd be a real treat to see him bestow the award to one of the leading men that he's been keeping from winning."
• Screen Rant provides an infographic that takes a closer look at the role of meth in "the show chronicling the wild ride of America's two most infamous (and unlikely) cooks."
• Celebrities continue to profess their love for Breaking Bad. Anderson Cooper tells Entertainment Weekly that the series "has been one of my favorite shows since it began; Mary Lynn Rajskub shares with Starpulse that she "really love"s Breaking Bad and that it's one of her favorite shows; Adweek reports that Joel McHale watches the show whenever he "can steal an hour;" and legendary gossip columnist Liz Smith boasts in the Palm Beach Post that she was the first journalist to have high expectations for Breaking Bad and "raved so much" that Bryan Cranston sent her a Breaking Bad wristwatch (no link).
• Actor Drew Powell, who got his start on Malcolm in the Middle, tells Wetpaint Entertainment about Bryan Cranston: "He was just always such a nice, gentle soul, always willing to give some advice to a newbie coming up, so I was really excited to see him doing so well."
• Bryan Cranston and co-star Jude Law talk to Flicks and Bits about their new film, Contagion.
• Collider.com features the new character posters for Drive, including one for Bryan Cranston.
• For recaps, reviews, and ratings for Season 4, Episode 7, "Problem Dog," check out A.V. Club, BuzzFocus.com, Collider.com, Crave Online, Daemon's TV, Entertainment Weekly, HitFix, The Hollywood Reporter, Los Angeles Times, New York, Paste, Poptimal, Salon, Slate, the Star-Ledger, Time, TV.com, TV by the Numbers, TV Fanatic, UGO.com and The Wall Street Journal.
Read More