Uncategorized
Q&A – Giancarlo Esposito (Gus Fring)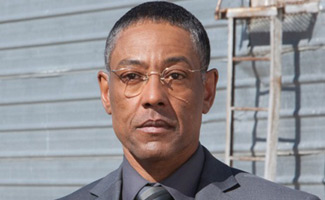 In an exclusive interview with AMCtv.com, Giancarlo Esposito, who plays criminal mastermind Gus Fring on Breaking Bad, talks about doing his own stunts, making fried chicken on set, and "dead cold killer" eyes.
Q: Talk a little bit about the scene in Season 4, Episode 10 at Don Eladio's manor where Gus poisons everybody, including himself. Is that villa really in Mexico?
A: That scene was shot up in Albuquerque, up in the hills it looks just like Mexico. And it was a beautiful palatial estate, as you can see on film.
Q: Did you really retch in the bathroom?
A: Yes, I was really retching in that bathroom. I almost made myself sick just sticking my finger down my throat, but I had to do it in a very calm and stealth way that Gus would do it.
Q: There's a scene from Season 4, Episode 9 where Gus walks out into the line of fire. That wasn't a stunt man, was it? We see you the whole time.
A: Well I loved that moment, because actors love to be the hero at one time or another. And that was all me, no stunt man. I walked into those bullets: those were squibs put into the ground that were quite strong actually. I had a line to walk and I did get some gun residue from the earth kicking up the ground into my eyes and into my glasses, but in true Gustavo fashion, I didn't flinch.
Q: Do you ever feel like Gus carries over into your life off set?
A: I was walking in New York going to meet a friend the other day and I started laughing to myself because I realized my posture was completely Gus-like. I said to myself, "Who is this right now? Is Gus taking over my spirit completely?" [Laughs] I've done my best to sort of grow my hair a little bit after playing Gus to sort of release him and let him go for awhile.
Q: Tell me a bit about shooting scenes at Los Pollos Hermanos. Is that a real restaurant?
A: It's a Twisters in Albuquerque off of Rio Grande Boulevard that is open when we're not there. Twisters is a great chicken joint, and we fry up the chicken in there and I do my favorite recipes back there behind the fryer along with the prop people. I love being there because the smell of that fried chicken really gets me going.
Q: You spoke last season about how yoga is a big part of your daily routine. Do you have a ritual or anything you do specifically on set before shooting?
A: I got some practice in Season 3 and 4 in allowing Gus to be so controlled that what I do now is a sit and breathe for five minutes. I close my eyes, look at the tip of my nose and listen to my breath. I'm really so relaxed that I'm not acting any more. And that's been a key thing for my development of Gus.
Q: Gus' power often derives from the way he strikes fear in the people around him. Are you quiet and brooding like that on set to get in character, or can you switch from palling around with people on set to being intimidating on camera?
A: Well, I do it in the scene. I don't try to create hate. I don't try to create anger. I just drop myself to the point where I become devoid of feeling. The moments when Gus is really demonstratively powerful and frightening is when his eyes go dead. I use my breathing to just take me down to a level where I'm hearing what you just said, but what you're saying is not pleasing to me. You're not giving me the answer I want. And I'm going to look at you with dead cold killer eyes until you do. I let go of all compassion and all loving thoughts or feelings toward my acting partner. It's something where you go inside, you look at somebody and you go, you know, you are just not going to make it. Period.
Q: What does it take to be an actor who can play both a guy who cuts throats and someone on Sesame Street?
A: I think it takes being awake and present. To be a character actor is to be open, to be a chameleon. And it takes a large amount of starting over. I don't like to bring one character into the next, and I don't like to see movies, films or television when I'm working on a character or actively shooting. I want to be original and try not to repeat myself.
Click here to read an interview with Jonathan Banks, who plays Mike, Gus's henchman.
Read More